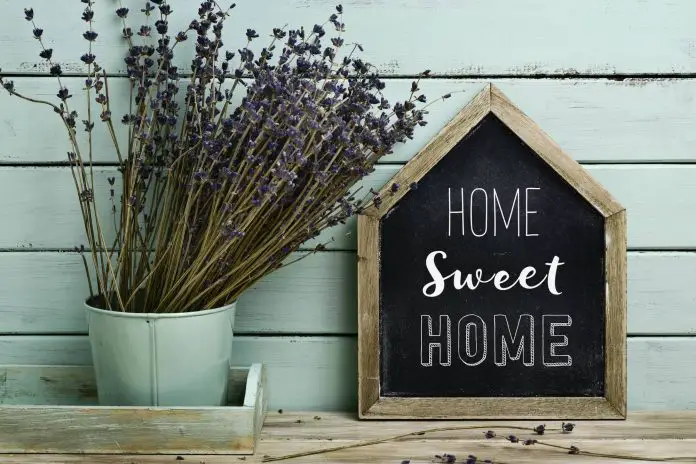 Every home needs a welcoming identity and home sweet home signs imbue that kind and warm vibe. As soon as you walk into a house, these signs spell out their welcoming message in bold, stylish, and large fonts. It's a way of showing the artistic and lively nature of the home that you have just entered- similar to these gorgeous welcome home signs.
Other than that, home sweet home signs also add to the décor and make the home more attractive. But with various styles, sizes, and colors, finding the right sign for your home might be a bit challenging.
For this reason, this listicle will be looking at some of the best ideas on the market for home sweet home signs.
Home Sweet Home Signs
1. The Personalized Holiday Porch Sign
This is a tall and rectangular home sweet home plaque that can look good on any house entrance. It can be placed beside your door on the right side of the doorknob. The letter "O" in the word home features a creative design that brings out the natural look of your home.
2. Large Oakthistle Custom Framed Home Sweet Home Sign
The Oakthistle is a custom framed home sweet home sign on a wooden design. This sign can be placed anywhere but will be more attractive on your home's front porch. It's customizable and sizable nature allows you to have a sign of your choice.
3. The Sassy Designs Wood Sign
Another home sweet home sign idea worth looking into is this one by Thesassydesigns. This sign features a creative design with two attached stands. It's like a small tree and you can place it immediately after your home's entrance. But this will have to be either on your right or left side after entering the house.
4. Kaminskikreactions Wood Living Room Sign
Like the name of the brand behind this idea, this home sweet home sign features a pretty creative design. The sign embraces the word home and shows its expression in many ways. Additionally, the words are written on a circular-shaped wood, which makes the whole sign look rustically natural.
5. Pretty Perfect Studio DIY Plaque
If you like spending time at home, then you will most likely love the design of this sign. It spells home sweet home in large and beautiful fonts. The design will surely capture the eyes of anyone who enters your house.
It can be placed above the counter of your bookshelf or you can frame it elsewhere in your living room. Whichever place you choose this sign will be a perfect addition to your décor. We've even seen this style hung up as a handwashing sign to remind people to clean up properly after using the restroom!
6. Little Bee Creations Rustic Wall Signs
The signs here are pretty much like the first option on this list. However, these are more indoor-friendly. Other than that, they are mostly perfect for the holiday season. You can combine these ideas with your Christmas decoration to come up with something unique but still aesthetic.
7. The Little Log Cabin and My Home
Simple, stylish, but highly straightforward. Sometimes creativity doesn't mean to go over the borders and do something far from normal. It can simply mean enhancing what you already have with you.
And that's what this home sweet home gives you, a small wooden design with the words (home sweet home) spelled out perfectly in the middle.
8. Perfected by Practice
Written on a tall and rectangular-shaped wood design, this sign can be customized to say anything. You can have it say welcome, home sweet home, or just have your family's name spelled out loudly on the front door.
The perfected by practice brand has several ideas on these types of signs and you can find one that suits your taste anytime.
9. Hanging Sign
https://www.instagram.com/p/CHLvC76H4R6/
This one is a bit different than the ones we've been looking at so far. The design is oval-shaped with stylish and bold fonts that spell out home sweet home quite nicely. Additionally, you can simply hang this sign on your front door, which displays it to anyone who enters your house.
10. Carved Wood Signs
For the most part, we've been looking at home sweet home signs that have been written on wooden frames. As for this idea, the words are carved into the wood, which makes the whole experience different and very natural.
It features the word home at the top and bottom, while the word sweet is carved across and in between the two words. Due to its customizable nature, you can have the carved words painted with your color of choice.
11. Let's Just Craft
Creative and stylish, this home sweet home sign is one of the most beautiful things you'll ever see. It's perfect for the outdoor setting, and even better if you have a tree nearby your house.
The design on this piece also features lighting at the back of the sign, which illuminates the beauty of this sign altogether. If you want a sign that oozes elegance and attraction, then this will be a great consideration.
Bottomline
A cozy home requires you to be creative and the home sweet home signs highlighted above will help you achieve that. They are not only trendy, but they also add art and playfulness to your home space. This can be a great way by which you can allow your personality to reflect in such beautiful signs. Check out these funny bathroom signs if you want more decorous examples of home signage or even how to make a DIY garage sale if you're going minimalist by liquidating some of your possessions.