Window clings are made with a durable material that uses static electricity to stay in place. They're intended for storefront windows, car windows, mirrors and more (Source).
Window clings are ideal for branding and marketing. You can typically buy them in full color and they're custom die-cut to any shape that you need.
Employing the power of static electricity to stick to your exterior rather than an adhesive, custom static clings can be quickly taken off without ugly residues and re-employed over and over again.
An Auto Example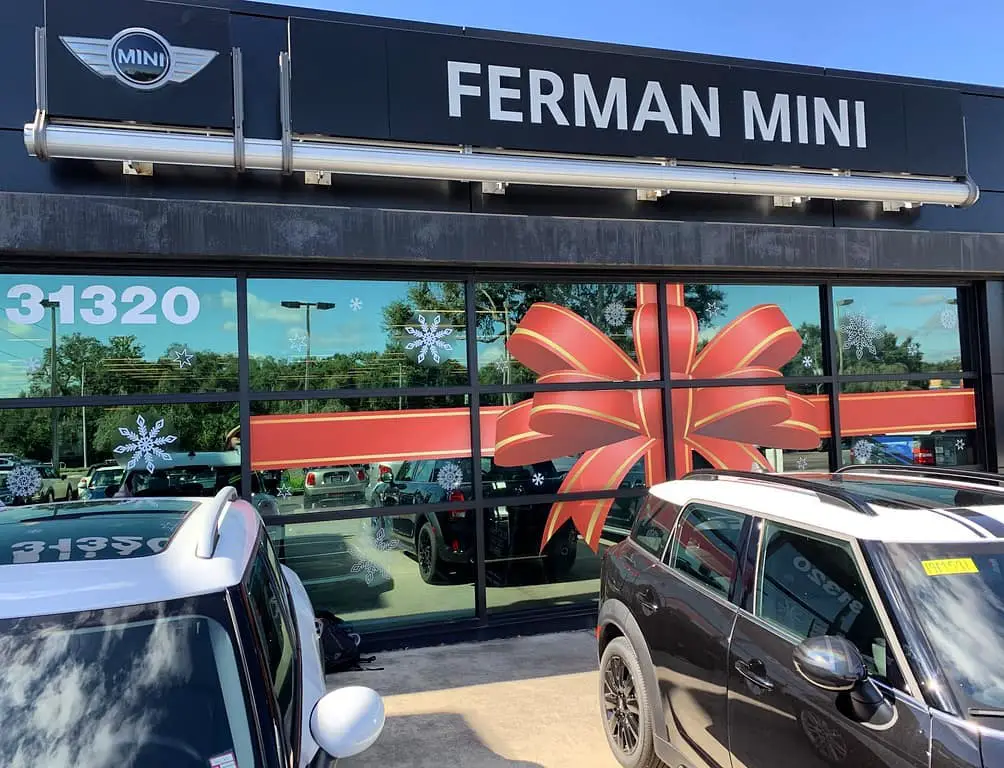 This makes them a cost-effective marketing, signage tool that will look fabulous on all of your windowpanes, glass doors, mirrors, cars and more.
Static cling decals are durable and will stick strongly to your exterior as they're also resistant to inclement weather and harsh sun. In a nutshell, they're a dynamic, adhesive-free option for quick, cost-effective marketing.
BannerBuzz Styles
BannerBuzz has some great templates and customizable options for businesses, or just for personal use. Check out some of their designs below- these decal signs are pretty quick to ship in our experience:
How To Install A Window Cling
More Details
We all love to shop, eat, and drink in shops and restaurants that are bright and inviting. If you are a business owner, the last thing you want is to lose an opportunity to convert a potential customer because of lousy branding. You are free to commit every other imaginable business blunder, but not branding.
In the past, branding and putting vinyl stickers on glass windows and glass doors was tedious and expensive. However, thanks to technology, it has become easy and fast to brand your business and decorate your home.
Window clings have become the preferred options for most people and businesses because they are easy to install, and you can even do it yourself. Besides, they don't need technical expertise or adhesive to mount.
This method of printing is revolutionary and helps turn your dull storefront windows and glass door into client-converting machines. However, if you don't know what they are, don't worry because we will hold your hand and walk you through it (Source).
Are They Stickers?
via: @murraypowersports
Most people refer to window clings as stickers. However, there is one thing that distinguishes them from stickers and decals, and that is – window clings are made of high-quality material and do not use adhesives to stick to the surface, unlike stickers and decals.
They are used for decoration, promotion, and advertising. However, they can also be used for kid's craft and car branding. Unlike other branding materials, they can be removed easily and moved to another place without a tear. Further, they don't leave debris and marks on your glass surface.
Furthermore, they are easy to apply because they only require a wet surface, unlike the other that demand adhesive. They have a static-charged back that enables them to stick on the windows due to static electricity when placed on a glass surface.
This branding material comes in different sizes and designs, which makes them an excellent way of advertising and promoting your business. Besides, they are economical, durable, and easy to set.
Buying Guide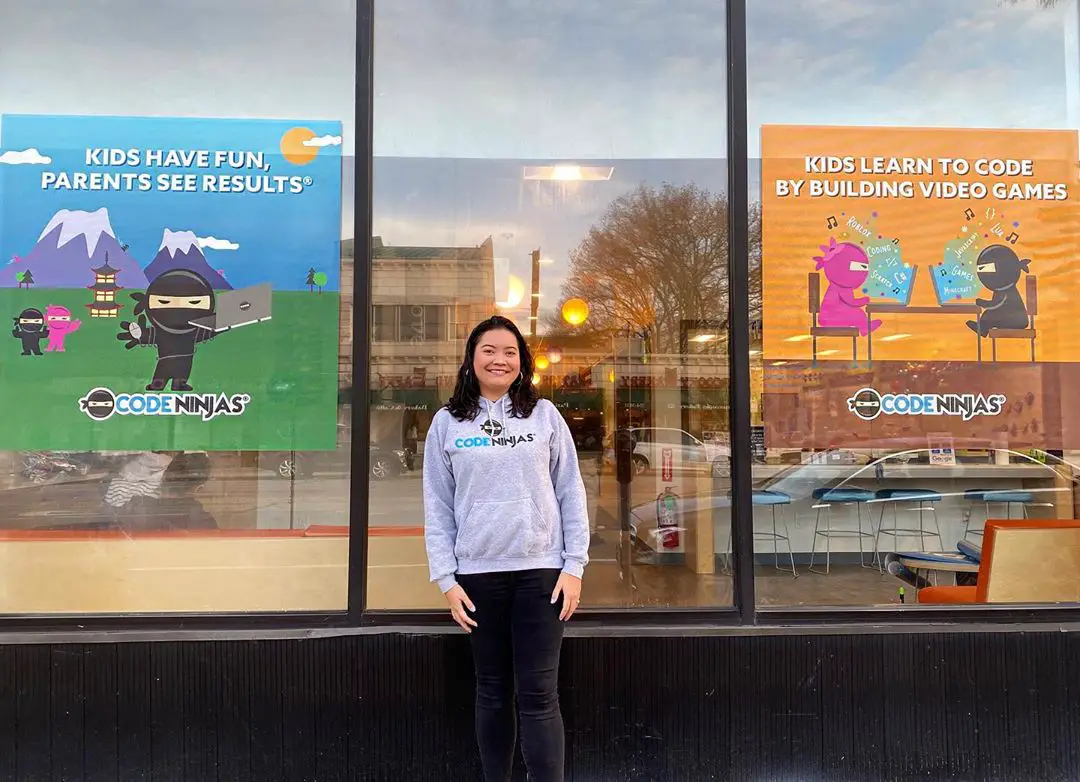 via: @victoria.perry
Before you start buying, there are some factors to consider so you can reap the maximum benefits of this mode of promotion and advertising. There is nothing hard about it. However, it is worth taking the following essential factors into account:
Material: When choosing the type of material to use, you need to determine whether it is for indoor or outdoor use. Some materials are appropriate for indoor, while others are best suited for outdoor use. However, there are some which are made of high strength static vinyl, which makes them ideal for outdoor and indoor use. When choosing the best material, we recommend that you go for UV protected vinyl window clings because they retain quality and last long even when exposed to harsh weather.
Privacy (Clear or Opaque): There are two types of window clings – clear and opaque. The kind you choose will depend on the nature of your business and whether privacy is a priority. On the one hand, if you want a transparent one that allows people to see inside of the business, as well as let the sun in, then we recommend going for clear-based. Conversely, if you don't want people to see the inside of the business as well as protect it from harsh sun rays, then you should consider installing opaque-based.
Design: They say a picture is worth a thousand words, well, a skillfully designed window vinyl cling is worth a million words. The occasion or the promotion event you have can influence the design you choose. For instance, you can have your artwork designed for Christmas, Halloween, discount offers, or customized to fit any seasonal events. The beauty of this branding is that they are easy to install, move, and remove based on seasons and festivities. Moreover, you can choose to have a glow in the dark window custom cling in case you want your store to be lively when the sun sets down.
Resolution: Resolution refers to the number of pixels per image, and it is expressed in dpi. When it comes to branding, the fact remains that; the higher the resolution, the better the outcome. We recommend going for one within the range of 720dpi to 1440dpi resolution, or even higher.
Size: You have to make sure you get the measurement of the window or the door, to ensure that you are placing the branding right. Having the wrong measurement can distort the images and texts, thus making them appear too large or too small to fit in your preferred location.
Ease of Application: Custom window clings are easy to install because they don't require adhesives – this is what separates them from other types of branding, such as stickers and decals. Nonetheless, you need to confirm that the type you are buying is of high quality and sticks on the windows without a challenge.
(Source)
Use for Kids' Craft and Cars
Christmas Crafts: DIY Holiday Window Cling Decor
While static clings are excellent for your business, they can also be used for kid's craft at home. These materials don't use adhesive- a feature that makes them ultra-removable and incredibly easy to reposition as many times as the child may want.
Moreover, if you want to get a little creative with your car, you can stick some art in the car's body, as they are easy to attach and remove.
Summing Up
Customers who have decorated their homes or branded their stores have several tips that they can use to achieve the best results. First, make sure you clean the surface you intend to place the sticker. Dirt and uneven surfaces can make your branding look less vibrant and less appealing to the eyes.
Once you have cleaned the surface, use a dry fabric to dry, and then proceed to spray the surface with water to make it wet. This is because stickers tend to adhere firmly to wet surfaces. Finally, you can apply the decal. Make sure that the smoothening is even, and if possible, you can use a squeegee to remove the air bubble and make it airtight.
Most reviewers are impressed with the ease of application when they do-it-themselves. Besides, the freedom to remove and move them to another position with high traffic, or where you anticipate your customers, will make it the preferred promotion and advertising option.