If you're throwing a special event attended by big-time celebrities, a step and repeat banner creates excitement, attracts media and generates a stunning photo opportunity.
Remember, though, you don't need to be a big-time PR agency to use one of these.
Even if you're throwing a small, local event for a church or school, a custom step and repeat banner is a glamorous way to have some fun!
A Fun Birthday Example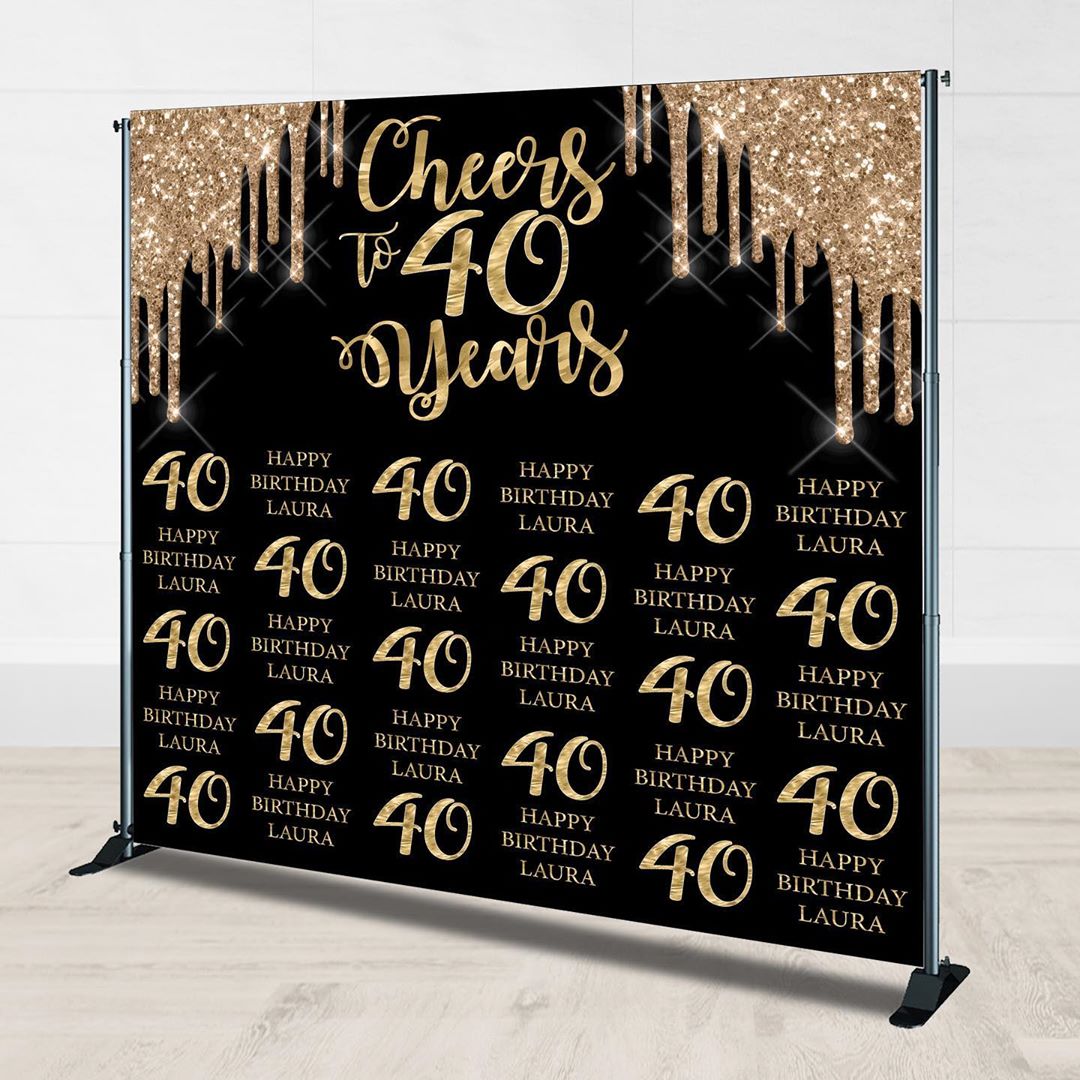 via: @baloedesigns
One of the principal benefits of step and repeat banner printing services is that you can print virtually any type of custom image, graphic, logo, or other design on them. That makes it perfect for backgrounds and photos (Source).
You automatically create awesome-looking photo opportunities. This is important nowadays as all these images will be shared on social media. Splash your logo/brand on your banner, and all of a sudden you're getting a TON of referral traffic from Instagram & Tik Tok (Source)!
BannerBuzz Styles
Customer Feedback
One reviewer said that working with BannerBuzz to get their pop-up backdrop printed was really fabulous. They were courteous, quick, and very helpful throughout the process. Will definitely work with them again for future projects!
Another buyer said that the banner was so pretty and really huge. They were amazed at how quick they were prepared to spec prior to order.
Yet another buyer said that they were happily surprised by the service and the speed of delivery. It was delivered from India to Sydney, Australia on the 4th day after buying! They thanked BannerBuzz for a stress-free purchase. The banner is excellent and rather easy to put up and down and move around.
How To Set Up A Step and Repeat Banner
Today when you are getting ready for a photoshoot, there are so many different things that you can do. Since there are so many different things online that you can use to enhance the way your photos look, you can pick and choose the items that have been tried and proven to give you a professional-looking background.
One of the most essential is the step and repeat backdrops. The step and repeat backdrops can make it look like you are sitting in the middle of the forest on top of the highest mountain peaks or an awesome place in the world.
More Details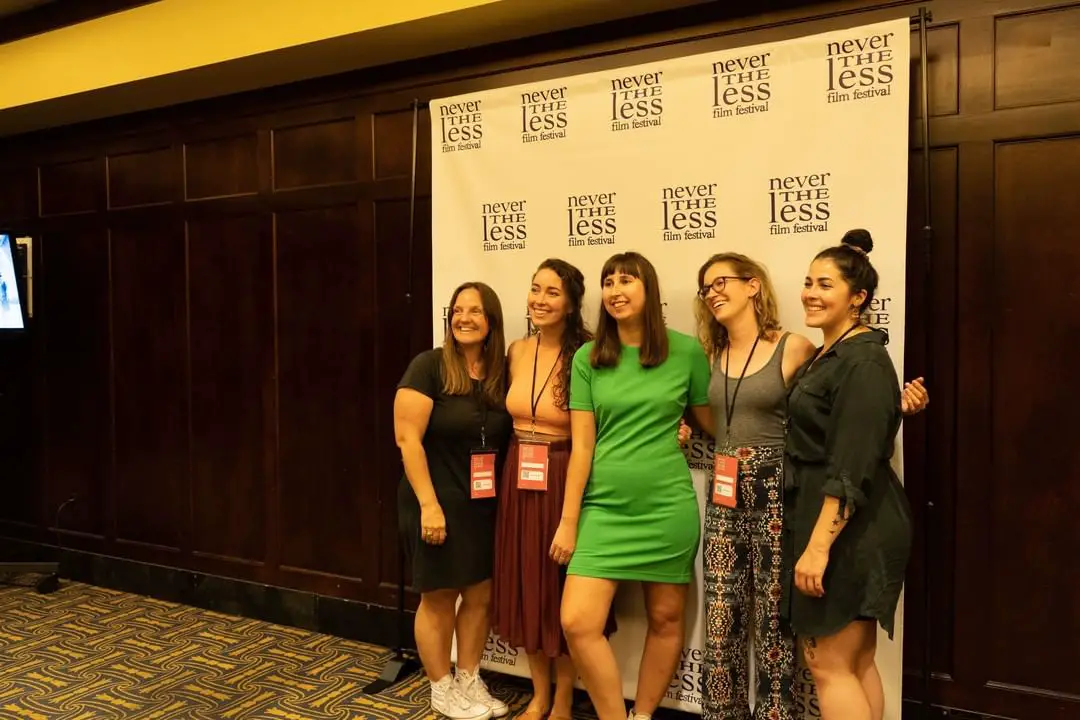 via: @neverthelessfilmfestival
A step and repeat backdrop can be described as banners that both individuals and professional photographers use to create the illusion of virtually any type of scenery. They are primarily used by photographers who want to create a specific scene for an event, family photos, weddings, and other occasions that an individual or organization requests.
This type of backdrop is sometimes referred to by one or more names, including a step and repeat wall or a press wall. For those people or photographers that use them to enhance and create their own scenery, they can choose a wide variety of different patterns that can be used.
It is also important to note that companies can use these step and repeat drop backs to promote their brand, emblems and their logos. Based on what the occasion or event may be, you may see the step and repeat backdrops in the scenery of a red carpet event.
Therefore, you may see intentional promotional photos in the background of many celebrity promotional shots today. You may also see these step and repeat backdrops in the shots behind professional fashion artists in their galas. Photographers may also have select step and backdrops to create the perfect scene for their professional wedding photoshoots.
Buying Guide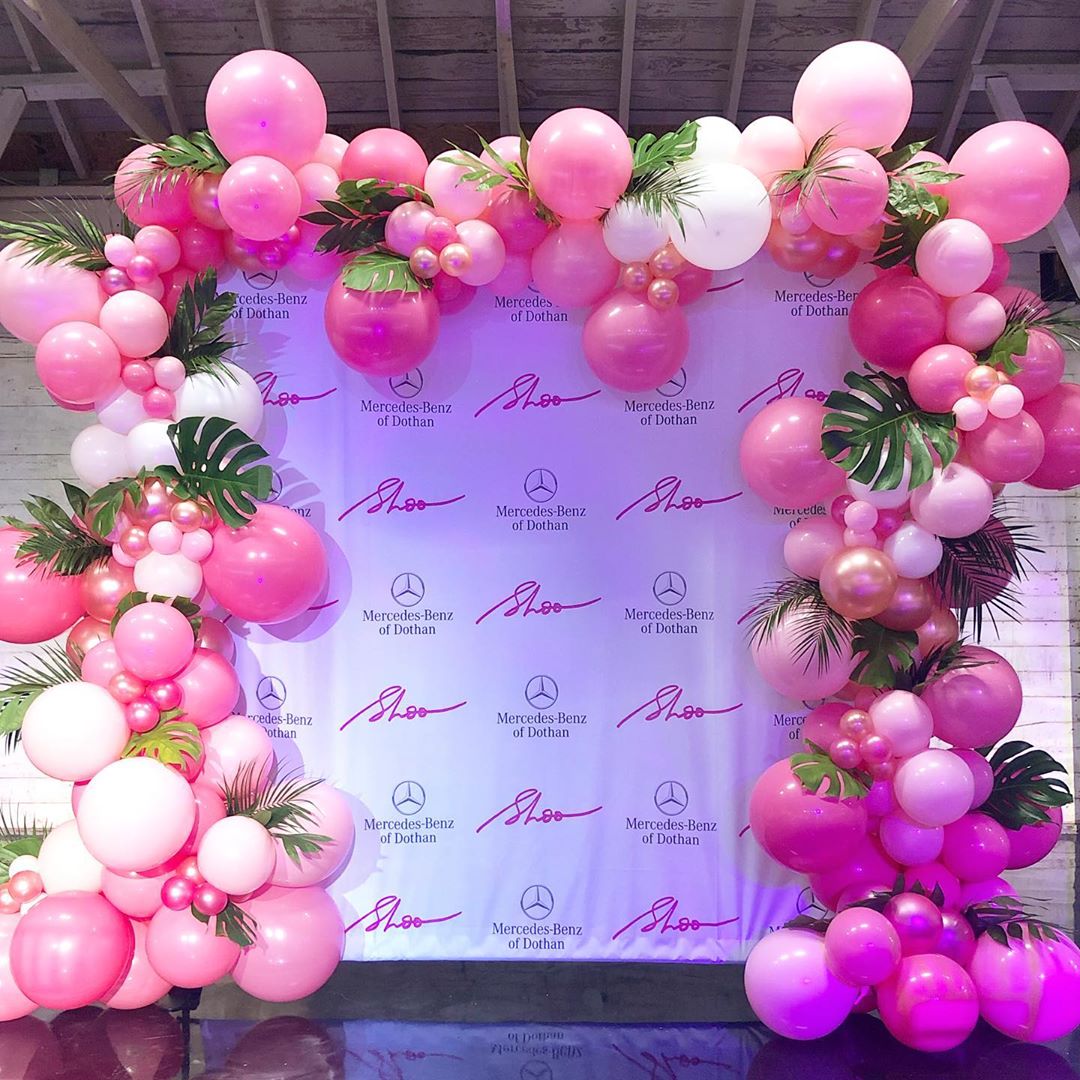 via: @mingle30a
Choosing the right type of step and repeat backdrop for your photoshoot does not have to be a difficult undertaking for you nor the photographer. Because there are specific things that you should look for, you can select the best selections for your particular needs. Here are some of the things that you be searching for as you make your decision to buy.
Size -The size of your step and repeat backdrop should be considered as one of the first decisions that you make. For instance, the sizes of these items can vary greatly based on your particular needs and the occasion. For instance, you may choose an 8ftx8ft (2.5m width x 2.5m height) or one that ranges from adjustable Sizizing like 54″ to 96″ wide and 36″ to 96″ height. The ultimate or maximum size for some shoots usually are made for the most visible graphics is 96″x96″.
Material – The materials used for the photoshoot can make a big difference, too. This is because the quality of the photoshoot can often be determined by their overall quality. For instance, if you buy vinyl or a very thin cloth, you need to make sure that the quality of the photos you take is of the highest in the highest quality, clear and vibrant colors.
Portability – Easy to transport from one place to another
Durability – Must be able to stand up for long periods of time without tearing
Custom Options
PhotoShop Design Tutorial
When you are looking to buy your step and repeat backdrops, you may not find a specific one on the market to meet your needs. Since every occasion and event can be different, the background for the photoshoot can easily change as well. In this case, you may need a custom made step and repeat backdrop that fits the occasion perfectly.
For instance, most custom-made step and repeat backdrops are made to suit events for a business. These are made with promoting company logos, brands and other distinctions in mind. These custom made step and repeat drops can be made by templates that can be purchased online.
Stands
Another key to choosing the right step and repeat backdrop involves the tools needed to ensure it can be placed in a stable position. So, many of the portable step and repeat backdrops come with their own stand.
These stands must be sturdy enough to prevent breakage but light enough to move easily without problems. The stands must also be wide and tall enough to accommodate the materials that they are made from. So, in many cases, the stand can be designed with the size of the backdrop so that it can fit easily without having to adjust it in any way.
For Weddings
If the photographer would like to save time for both themselves and the bride and groom, they can choose to shoot wedding pictures with a step and repeat backdrop. Instead of driving to a faraway place like a beautiful beach or the top of an awesome scenic hill that produces various kinds of themes, the other option for the photographer is to create a professional artificial scenery of that same or similar views. With the use of a specific theme, professional photographers can make the background appear as the couple is really sitting or standing in the ideal place. The choices made can vary from one couple to another so the photographer must be ready with the view that the couple wants to see in the wedding pictures that they take.
For Red Carpet Events
If you really want to see what a step and repeat backdrop looks like or what it can be used for, you may want to pay special attention to the photoshoots that you see on the red carpet. To make celebrity events look really special and classic, you may see a wide variety of themes used to promote the red carpet events. Since these events are well throughout and planned well in advance, the perfect scenery, materials, sizes, and customizations are made before they can be used.