Outdoor Pole Banners are typically found hanging from the side of street lamp poles and posts.
The top and bottom of these banners are fastened by pole pockets to rods attached to the poles with ties through the grommets to ensure they don't slide off.
A Gorgeous Example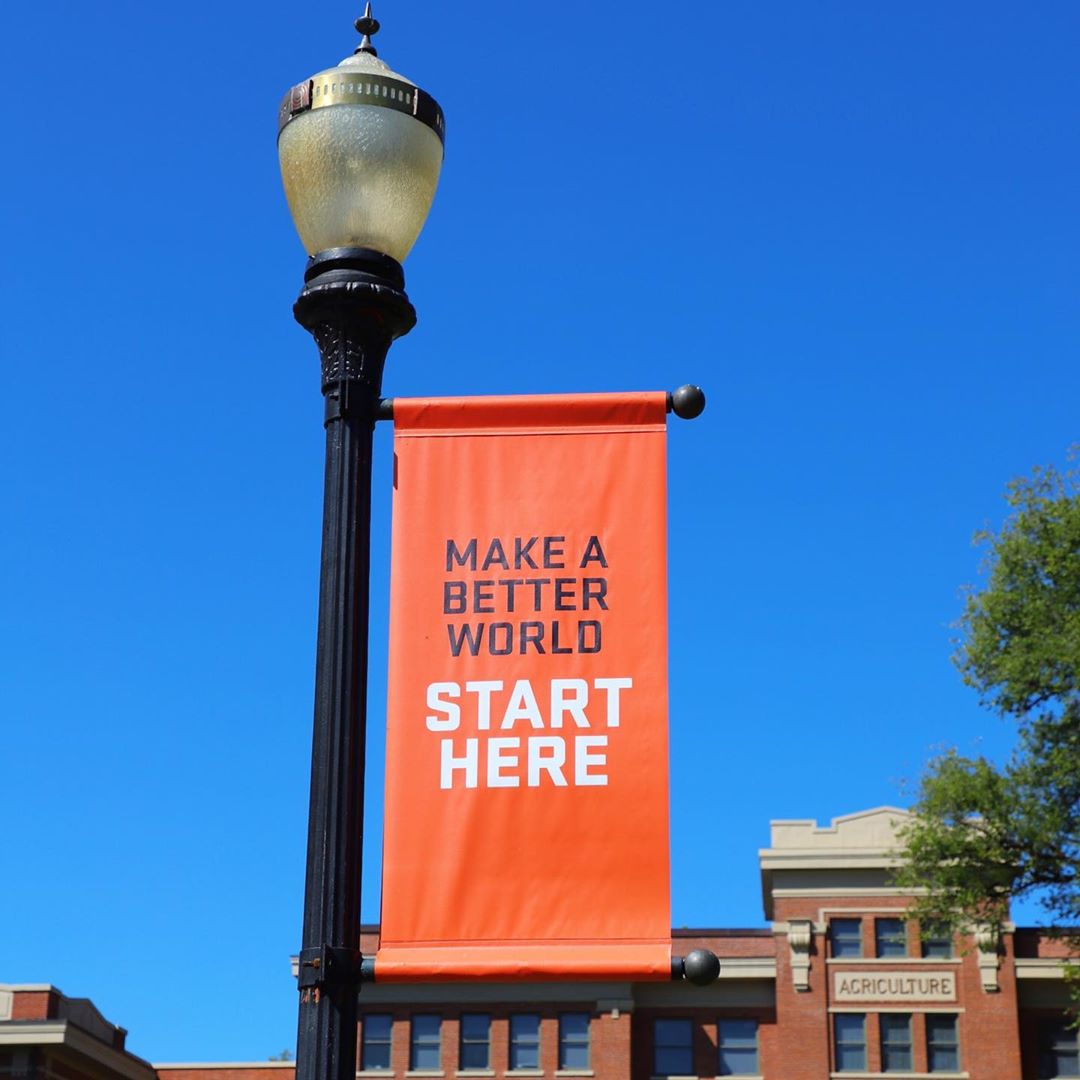 via: @osu_printmail
Overall, these are intended to be smaller vertical banners, but they add marketing visibility in an underutilized area, helping you get noticed by pedestrians and drivers. Larger versions can be used when marching in parades (Source).
BannerBuzz Designs
Customer Reviews
One reviewer said, solid customer support through chat, late at night. Verification and touch-up for quality before printing was surprising. They had to move the pictures for the folds and metal grommets. They beat their shipping expectations. Quality packaging. Quality printing and product.
Another pole banner buyer said that the whole process was simple. They uploaded their image, entered in the dimensions, and it was done! Being a small business owner, time is valuable!
Yet another reviewer said, as usual, the shipment arrived earlier than expected with standard postage. The product was of high quality and packaged securely. This window poster was of a much bigger size than they usually order and it was very complicated sticking it onto the inside of the window without making air pockets. In hindsight, it would have been simpler if they could have bought this in 2 or 4 parts to attach and assemble onto the window.
How To Install A Pole Banner
More Details
Don't let the huge traffic of people passing the street go to waste. Many businesses lose the opportunity to capture the attention of the massive traffic on the street. Whether you are operating a small ice cream shop down the road or a university, hospital, or a bank, people need to know where you are and what you do.
Whether your business is small or huge, you need a medium that captures the attention of pedestrians, and on the other hand, something that can direct pedestrians and cars to where your business or event is taking place.
Pole banners are an inexpensive way of promoting your business or event. They are used in festivals, churches, and events. If strategically placed, they have the potential to grab the attention of people who are walking and driving. They are an excellent alternative to those who don't want to put an advertisement on their wall or building. Besides, they have the potential of being seen by a large number of people
Advertising Uses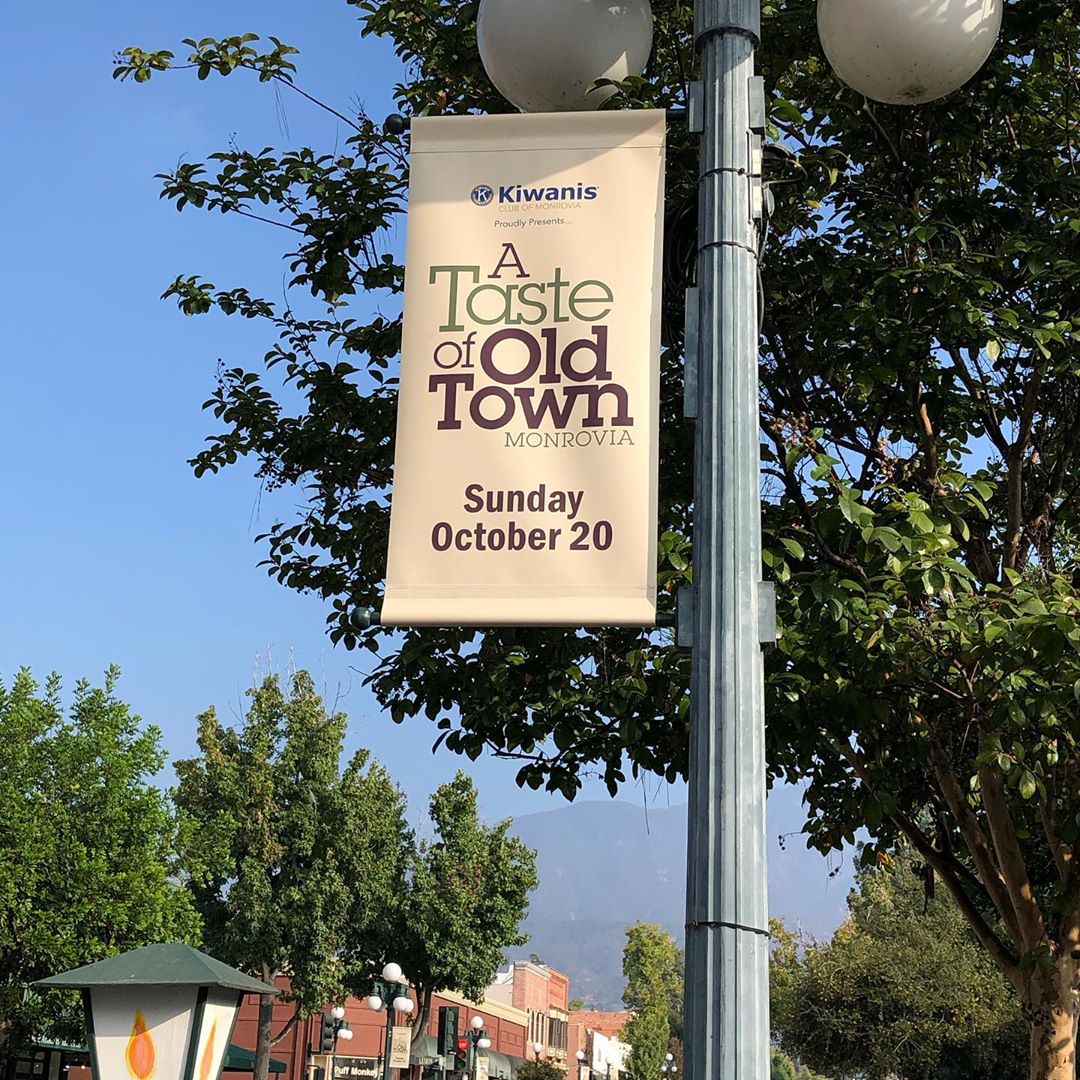 via: @imprintability
Pole banners are an advertising medium made of strong vinyl material, and are fitted on street posts. They are vertical in shape and often require bracket hardware to install.
We have two types of pole banners – a single banner where a banner is fitted on one side of the pole, and a double banner where they're are fitted on both sides of the pole.
Unlike other types, light pole banners are waterproof and ultra-violet resistant to withstand the harsh outdoor environment. They are ideal for promotion, advertisement, and showing direction. They are commonly used in universities, shopping centers, hospitals, and golf courses.
Most people like using this type of advertisement because it is highly customizable and able to generate a massive impression for your event and business. Besides, they are easy to install once the bracket hardware is in place – this makes them ideal for short or long-term advertising.
Buying Guide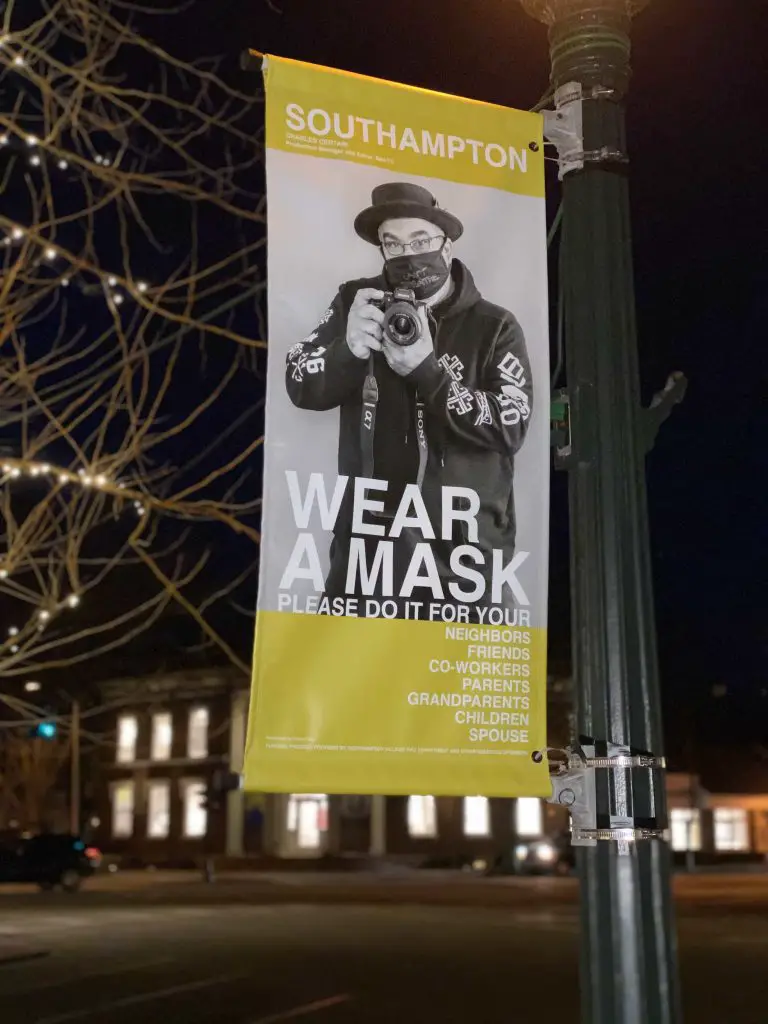 Design
The design is arguably the most critical aspect of a pole banner. A good design captures the attention of the audience and delivers the message fast and effectively. The majority of people commit the grave mistake of putting too much information in their design. However, just like everything in life, simplicity is the key – Always keep it simple.
You can make your design creative by incorporating images. Research shows that a creative banner gets more attention than a plain flag. Most printing companies have excellent templates to choose from; however, you can request them to customize something unique.
Color
The purpose of a pole banner is to get your brand noticed. Therefore, you need noticeable colors- otherwise; it becomes a waste of money and advertising space. You should go for colors capable of grabbing the attention of potential customers.
Studies indicate that some color combinations give maximum effect and grab the attention of the readers. For instance, black and yellow work well together – however, you need to consider your corporate colors and the location where you intend to install it.
If you intend to place your logo on the advert, ensure you have a background color that makes the logo noticeable. White is commonly used as a background color; nonetheless, you can use a black background in case your logo colors are light. Having the correct colors will make your banner stand out from the noise.
Distance Considerations
You should pay attention to the range your banner will be placed, and whether it will be visible. The height of the pole will determine the size of the text and the right font to use to make it easy to read. For instance, if the height of the pole exceeds 30 feet, then you might want to increase the size of the text to make it readable.
Size
Pole banners come in a variety of sizes. If you are planning to print one, then you should carefully measure the size for it to fit well and be visible.
The sizes of the banner are standard in the printing industry. The most common sizes are 18", 24", and 30" in width, while the height ranges from 24" to 96." However, you can get a customized size by requesting your service provider. Nevertheless, you need to know what the standard light post in your area can accommodate – most commercial Street posts can take banner with sizes ranging from 24" by 48" up to 36" by 96".
Banner Material
There are different types of materials – those suited for indoor use and suited for outdoor use. Pole banners are usually placed on the outside, and therefore you need to choose one made of a material that can withstand the harsh weather condition and exposure to elements.
Durability
Whether you want a short-term or long-term pole banner, you need something that stays fresh, vibrant, and captivating. The outdoor weather, such as rain and scorching sun, can make your banner fade or tear. Therefore, you need to look out for a weather-resistant material and UV protected because it will stay bright and colorful for long and attract new customers.
Installation
Printing a beautiful pole sign is half the journey. Now you need to install it so that people can see it and get to know your brand.
They come with pockets that are sewn on the top and the bottom for easy installation on the bracket arm. Therefore, it is advisable to avoid inserting vital information on the bottom and top edges because the pocket holes may distract them.
To ensure that the banner is not blown away by the wind, you can insert grommets to tie it firmly to the pole. Grommets are usually installed on the top and bottom of the banner and tied to the hardware. This is mostly done using plastic zip-ties. When installing, make sure you tighten the brackets so that it does not slide or come off.
Buyers' Feedback
Clients who have installed pole banners in their universities, mall, and churches have several tips, which you can use to make sure you get the best eye-grabbing pole signage that doesn't fly with the wind. For practical effect, you should identify a good location to place your banner and ensure you have a superb creative design that communicates quickly and appropriately.