While the digital age might have caused a seismic shift in the world of banners, with the incorporation of digital signage (LED Signs, illuminated displays, and LCD monitors), traditional outdoor banners are still considered extremely valuable. Most small and mid-sized businesses may not be able to afford premium digital signage, but with the outdoor banners, they can comfortably advertise their businesses to passersby.
Gorgeous Blowout Example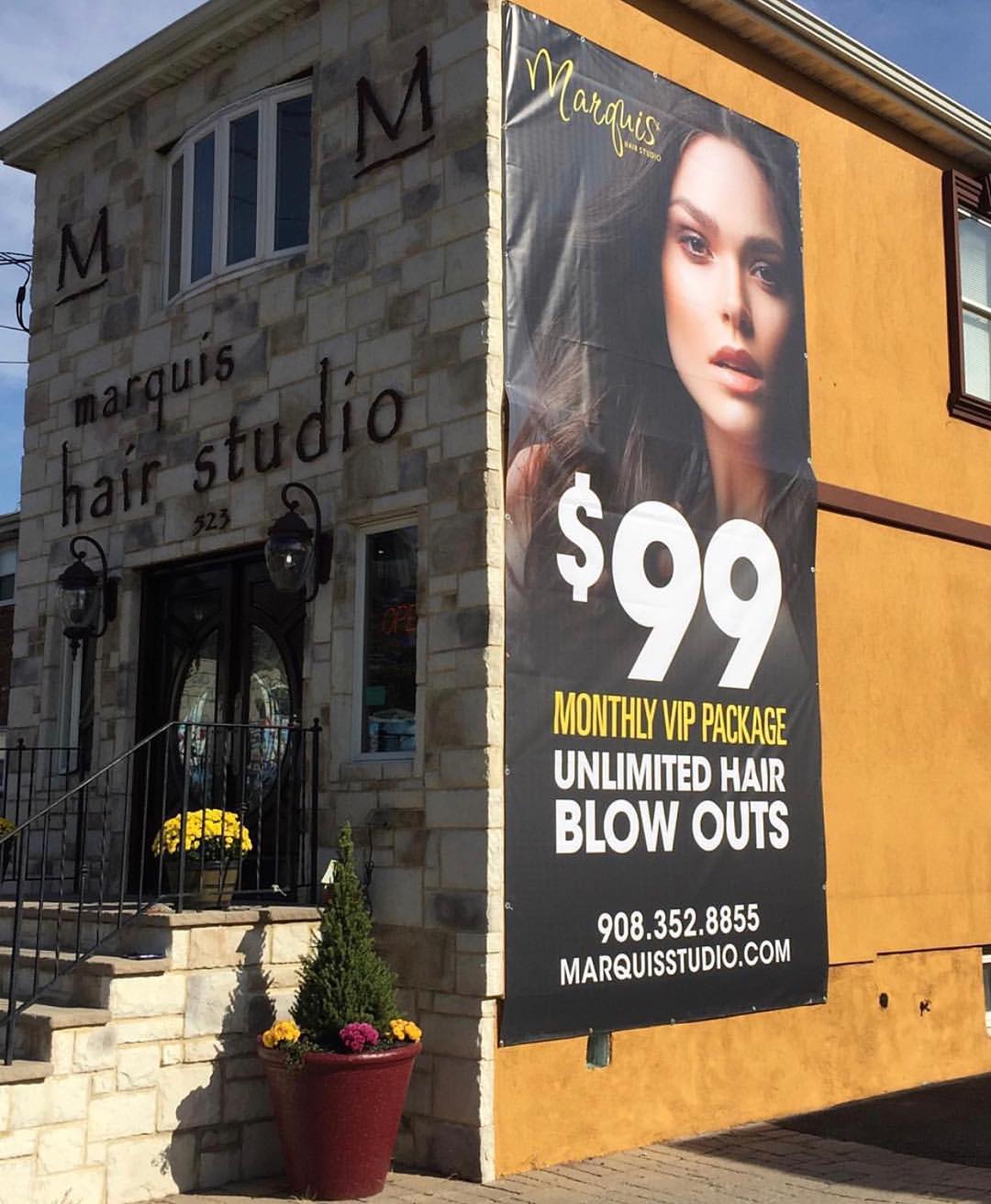 via: @blendmktg
Consequently, even large corporations have not entirely given up outdoor signage. Apart from their cost-effectiveness, they are still a very effective marketing strategy that continues to win over customers. Rarely do you pass through a town without seeing myriads of targeted banners.
BannerBuzz Styles
We've highlighted some of BannerBuzz's and BestOfSign's most popular templates below. There are lots of other templates besides these- and remember you can design your own on their websites.
Customer Reviews
One buyer said that they were very satisfied with the product they received. They helped them feel confident in my order by reviewing my design for free before proceeding with the final order. It was packaged nicely and they got a great price. They will be buying from them again.
Another reviewer said that the printing was very good, it arrived very quickly, the cost was good, and the material and production seemed pretty solid. They will unquestionably buy from them again!
Another buyer commented that they ordered 2 different items from them. The banners turned out great & BannerBuzz was remarkably effective with getting their designs created in a timely manner! They said that they would surely use them again.
BestOfSigns Styles
Customer Reviews
Order ahead of time: The sign itself is really superb, well-made, but it arrived 3 days later than when it was supposed to even though an extra shipping charge was paid. It wasn't available for the trade show it was meant to promote. It appears the sign is processed in the United States when it actually ships from India, was sent through Italy and then to the United States. They advised making time allowances when ordering
Custom Sizing: Another reviewer said that needed a 2×8 banner which wasn't in the drop-down but they ordered it "custom" on Wednesday and paid $50 for overnight shipping. It was on their doorstep Friday. Great quality. Grommets held up in strong winds and a bit of rain at their outdoor event. Thank you to all the Team.
Another buyer said that Best of Signs does excellent printing. Their work was very attractive and professional. The delivery time was superb. They actually bested their expectations.
Design Considerations
An outdoor banner is a strip of material wielding a slogan, a design, or any message that is meant to represent a company, organization, or even the government. Usually, they are mounted out in the open on the walls of buildings or the doorways of business premises. They serve to give information about a business, a company, or an organization (Source).
When choosing the design of your outdoor banner, there are several things that you should have in mind. Such include:
The Purpose
The purpose of your banner will significantly influence the type of design you opt for. Knowing the purpose gives you an idea of how to perfectly place your message to communicate well with the intended audience. A church banner is different from a business banner. You can design your banner for several purposes such:
Branding, meant to share the identity of your company or organization.
Informing, intended to pass across a message i.e., a communication about a church event.
Advertising and promotion, meant to sell a product or a service.
Visibility
Your banner should be strategically placed for maximum visibility. It is vanity to place your banner in a back alley where there is no audience. Place your banner at the front of your business premises, at a round-about, in front of buildings, among other suitable locations. Furthermore, the audience should be able to see your message from at least one meter away. They should not struggle to understand what is written on your banner.
Aesthetics
A Temporary Banner Shop Sign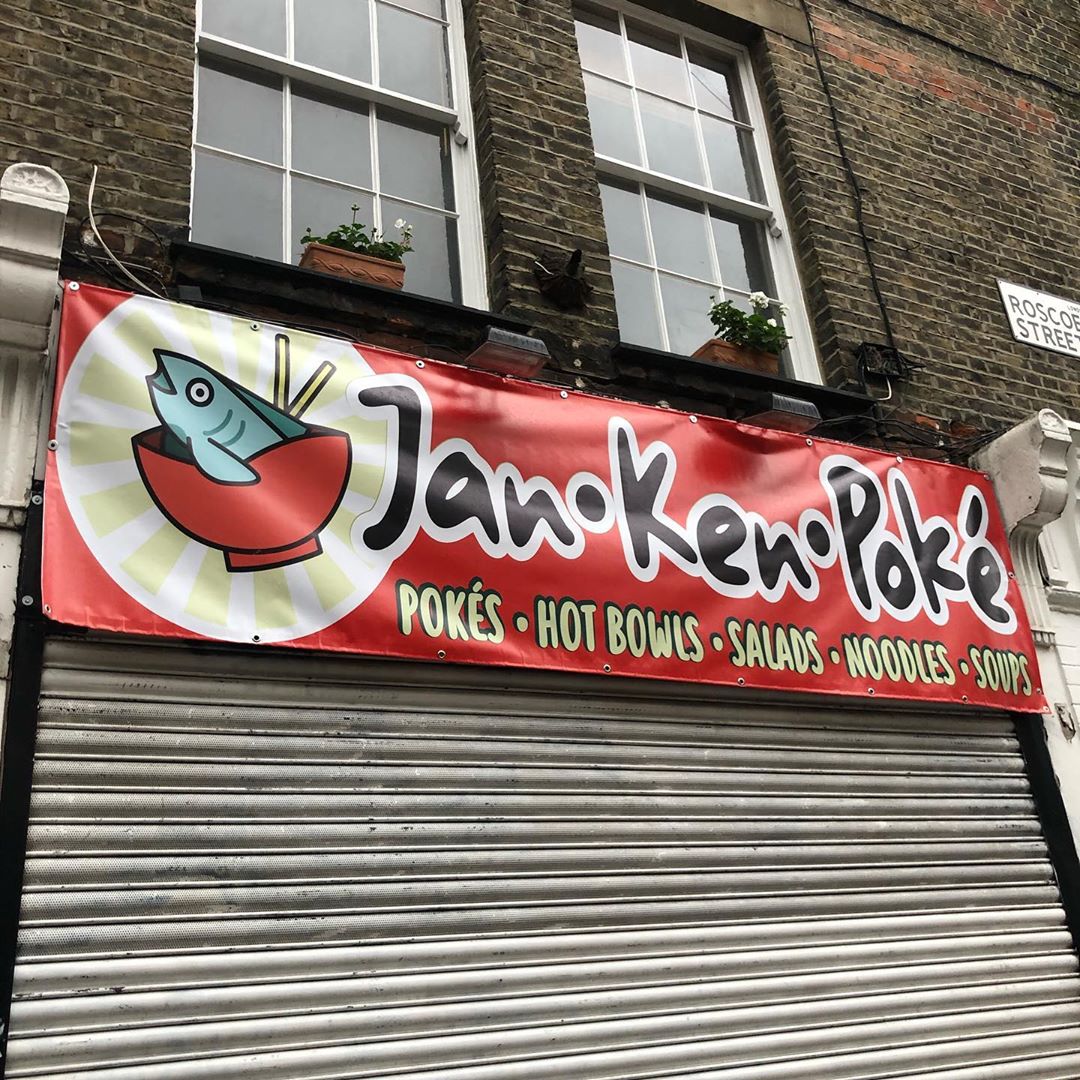 via: @essexbanners
Your outdoor banner should be aesthetically attractive to capture the attention of your audience. Regarding aesthetics, focus on the following:
Color: use colors that will attract the audience
Typography: use visible fonts
The Message: keep your message simple and direct
Imagery: use appropriate images to support your message
Video Tip: How To Setup A Jumbo Banner
Durability
Outdoor banners are entirely outside at the heat of all types of weather. The weather might be windy, rainy, or even the scorching sun. As such, you have to acquire a banner that will give you a long life in spite of the harsh weather. You do not want a piece that will quickly get torn by the wind, or that will fade in a moment.
In this regard, you have to consider designing using the most durable material.
Vinyl banners are the most durable if you are looking for a banner that will last long. The vinyl material is strong enough to withstand the harshest of conditions.
Flame Retardant
Safety should be in your mind when you are deciding on the choice of your design. Consequently, ensure that the material you are using for your banner is flame retardant. It would be a pity if a mere banner should fuel a small flame to the extent of burning down a building. Guarantee the safety of your business premises by adopting flame retardant material for your banner design.
Consistent Printability
For an entirely professional look, ensure that the type of banner you choose has a sense of balance. Ensure that the colors and the imaging are uniform. Such can only be achieved if your banner's material holds the ink consistently. Some types of fabric materials do not accomplish this; hence may cause your design to look odd and casual. Consequently, you might not achieve the intended purpose.
Curl-free
Wrinkling and curling may cause your banner to lose the touch of professionalism that you may have intended. Use a material that is not prone to curling and wrinkling. In case the material is out of the question, incorporate support mechanisms that prevent such.
'Engineered Stiffness' could also be a consideration. Use materials that are already engineered to avoid curls and wrinkles. This keeps your banners flat hence maintaining their visibility.
Cost
The cost of design is also a determiner of what banner you will get. You will always get the worth of your money since you cannot buy what you cannot afford.
However, the cost can also be viewed from the perspective of purpose. Designs meant for professional advertising campaigns may be more costly than standard church banners.
The cost can also be related to the type of material used. Fabric banners may be way more expensive than vinyl, while the latter may be more costly than acrylic types.
Size
The size determines whether your banner serves its purpose accordingly. A small design that is hard to read or understand stands no chance of accomplishing its mission; the bigger the banner, the better (Source). When deciding on the size of your design, you should focus on:
Size of mounting location: ensure your banner fits the mounting space available
Distance from the reader: have a picture of how far or close the audience need to be to have a clear view
Competition: should there be a similar competing banner, make yours bigger and better
Traffic: if the traffic is fast, the banner should be big.
Summing Up
Understanding what it entails to pull off the perfect outdoor banner is very important. Even before you come up with a design, visualize what you would want your audience to think about and then actualize it accordingly. Have in mind the ultimate purpose of your design; it is the basis of your banner.
Armed with the above tips, you will be able to come up with unbelievably influential banners that will move your intended audience accordingly.