A custom table runner can help transform your trade show stand or display table and make your competitors green with envy! It's a smart marketing play- you can custom design them so your logo is handsomely emblazoned on it. Generally constructed from smooth, polyester materials, they require little upkeep (Source).
There's a ton of different designs: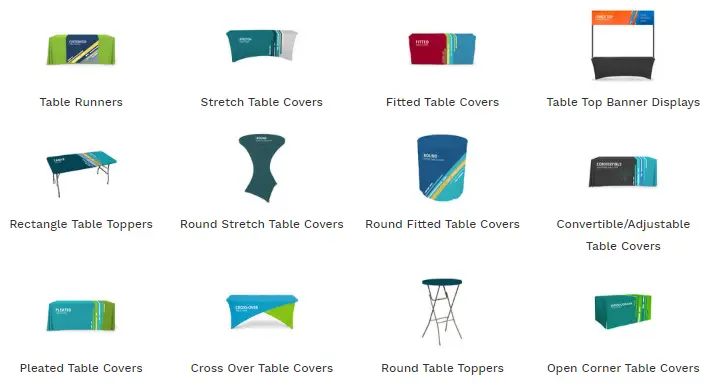 Fitted Table Covers
Table Top Banner Displays
Rectangle Table Toppers
Round Stretch Table Covers
Round Fitted Table Covers
Convertible/Adjustable Table Covers
Pleated Table Covers
Cross Over Table Covers
Round Table Toppers
Open Corner Table Covers
Stretch Table Covers
BannerBuzz Custom Designs
BannerBuzz Customer Reviews
One reviewer said they are so happy with their table runner. This was their first time ordering from Banner Buzz and they weren't sure what to expect. They said they are over the moon with happiness! They fell in love with their table runner!
Another buyer said that it was easy to design and upload materials. However, their graphics were low resolution and Banner Buzz cleaned it up and sent it back to them for approval. Quick turnaround and banner looks great.
One other buyer said that they ordered a table runner. They were able to review the product and approve it before it was printed and delivered. Delivery was also fast. It arrived before the projected delivery date. They said that they are extremely happy with how it turned out. They are definitely going to order again.
BestOfSigns Custom Designs
One buyer said that they were in search of a table cloth for their facility to attend different marketing events. They think this process was completed in 2 weeks' time to have the goods in hand, very quick! They got to preview the work before placing the order. Overall they were very impressed with Best of Signs and promote them to everyone.
Another reviewer praised the excellent ordering experience. They purchased a custom printed tablecloth from Best of Signs. They felt it was a fair price and that it looks professional. They had to order with expedited shipping because they were facing a deadline, and it was delivered within the promised time period. They said that they would absolutely use this company again.
Another buyer ordered a "premium full color table cover" to use during real estate open houses. Their graphics were pretty ornate, and they were hopeful that they would be reproduced clearly on a black cloth background. They received it and it looks amazing!
Another buyer said that they got their company table cloths and runner much earlier than anticipated. They were happily amazed at the condition and overall look of the items, especially considering the price. They said that they will surely be buying from them again.
More Details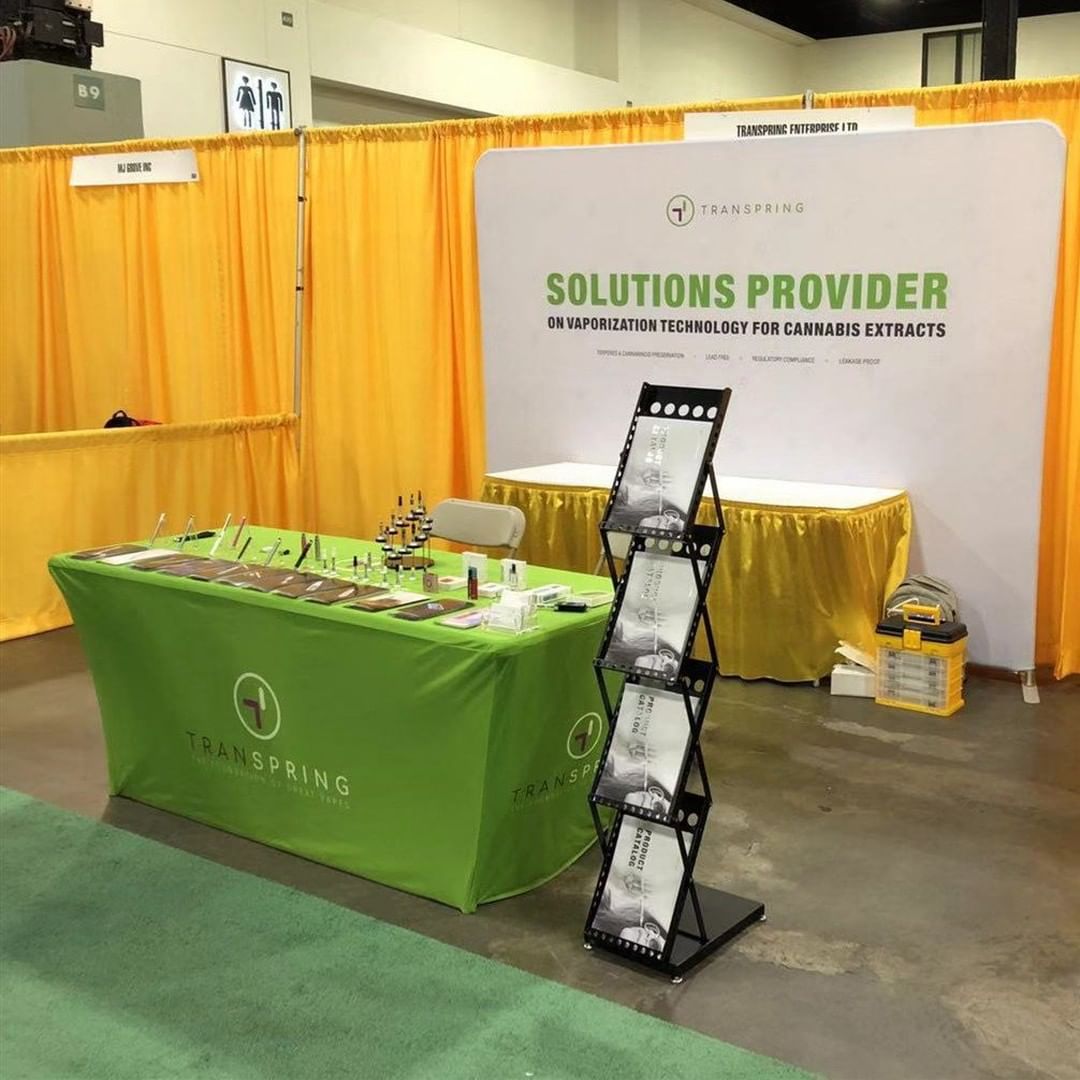 via: @transpringhq
Table runners come in handy to give your booth or table a nice color and texture, as well as attract interest. In trade shows, they are the quickest of ways to effortlessly brand your business. A large inscription of your company logo or large initials of your company could be the main content that will tell your audience what you are.
In home settings, you can have them placed in kitchen tables to protect your table from spills and hot pans damage. You can also use them as decorations on your sitting room tables to give them colorful looks or to mark special occasions.
Video Overview: Common Considerations
A table runner is simply a piece of cloth that is placed on the table. It may be placed over the table cloth in home settings or customized to be used in the trade shows booths. Companies also use them for branding tables on their business premises and at industry conventions.
Table runners can be used on a daily basis and in home settings to safeguard tables against spillages and to protect the table cloth. You can also use them as an aesthetic way to decorate your rooms, especially during festive seasons.
In business, you can get a custom table runner to brand your company, or as a way of attracting the audience in trade shows.
The material of a table runner determines the occasion in which it can be used. For formal events like business shows, you should consider using customized pieces made from silk, organza, satin, or polyester to get that shiny attractive look.
In casual uses like for your kitchen, cotton, twill, and bamboo will work just fine. Here, you might not be going for elegance. However, for your sitting room, consider the former materials.
Buying Guide
Before you acquire a table runner for your kitchen or get a customized piece for your event, there are several things you need to have in mind. Such could include the following:
Size: A custom table runner will entirely depend on the size of your table. Before you acquire a piece, get the correct measurements of your table to ensure the runner fits perfectly.
Cost: Runners might not be the most expensive of branding ways, but they differ on account of materials. If you intend to pull off that professional look in your event, you will be prompted to use more expensive material pieces like silk ad organza. For our kitchen use, you can use less expensive material pieces made of cotton.
Material: You also need to choose the type of material you want your piece to compose of. You can make your choice for professional use from a collection of materials such as silk, organza, satin, or polyester. For your casual purpose, you can use cotton, twill, or bamboo.
Function: The function of the table runner will also determine what type you acquire. For trade shows and other formal events, you have to go for a professional look. However, for home-based use, a casual look would be in order.
Making The Investment
Should you have an event, it is crucial to acquire an appropriate custom table runner for it. Moreover, it is aesthetically cool to have a piece for your sitting room table or even the kitchen table. Here are some of the reasons why you should get a runner:
Creating Attraction
During trade shows, table runners act as a magnet for your audience. If colorfully and beautifully made, they can beckon the audience from far. In a home setting, like these from Etsy, they can aesthetically attract your visitors and give the room a beautiful look.
Efficient Marketing
A custom table runner that has your company's logo and initials will market you. It makes the audience in the instance of a business show or conference aware of your company. You do not need to shout your company name, inscribe it alongside your logo on a table runner. They are a good way of branding your company.
Professional Look
In the event of a trade show or any other form of presentation, customized pieces give you a professional look. When you have your tables covered in the identity of your business, your audience will accord you the business respect you deserve. Imagine making presentations in a trade show in bare tables? That would appear so casual.
Table Protection
For casual use in your kitchen, table runners come in handy to protect your tables. Due to spillages, your table might wear and tear. A runner would help you avoid such. They ensure that fluid such as soups does not destroy your table. They also protect your table against hot utensils such as pans.
With Table Cloths
You might have spent a fortune on your Spanish table cloth, and you would not want spillages to destroy them. You can always acquire a slim runner to cover your expensive table cloth. During special occasions like dinner parties where food and drinks are in plenty, a runner would be of much use to protect your table cloth.
As A Decoration
Colorful and beautiful runners can be a mode of decorating your office or even your house. They add on to the room's aesthetic value, which in turn enhance the look of your room by acting as a decoration. You can match your table runner with other forms of decorations to give your office or house a beautiful look.
Summing Up
Table runners might not seem significant, but in the real sense, they are essential. Try making a presentation in trade show on a bare ugly table; the results would be underwhelming. Runners give you both a professional and a touch of class that significantly make the audience take you seriously. At home, they complete that aesthetic look that will impress your visitors. Furthermore, they give your tables a long life. Conclusively, you have all the reasons to acquire a piece.