The word fabric is associated with clothing and upholstery, but as a digital textile, the fabric can be used to hold images and graphics as signage or a banner. The use of fabric as a banner flaunts its advantages as well as its shares of disadvantages.
A Gorgeous Exhibit Booth Example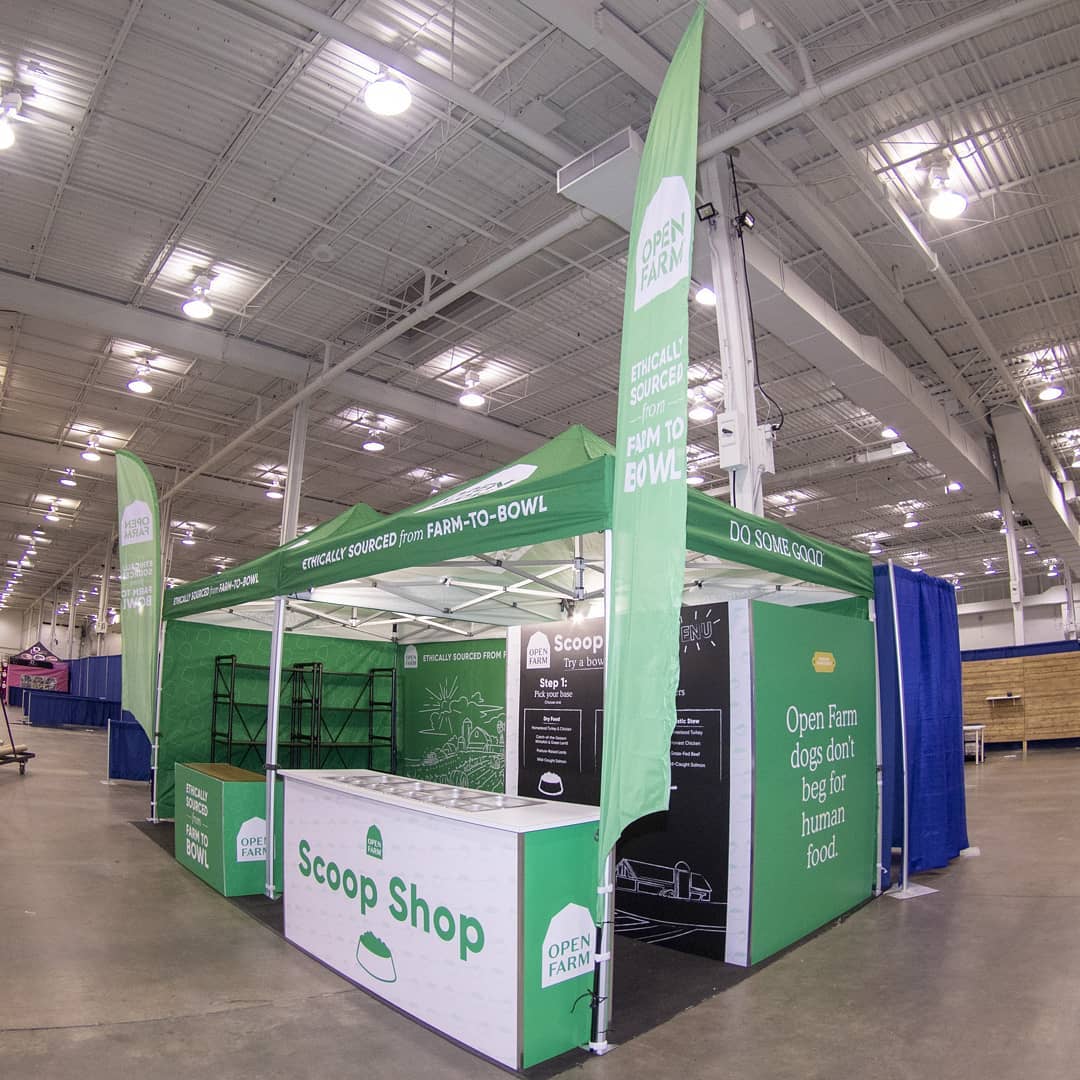 via: @dornadisplays
However, the type of presentation you wish to display on a banner influences your choice of the banner. As such, a fabric type is only appropriate for a specific advertisement or message/image presentation.
What The Pros Say
: According to
Signs.com
, "Fabric banners are printed on a 100% polyester, washable, wrinkle-resistant fabric. The 9 oz. polyester offers minimal light reflection, with a light sheen that enhances the dye-sublimated printed design and overall print quality of fabric banners. Further, the thin threads and tight weave of the banners results in an ultra durable, lightweight banner." 
A fabric banner further has some qualities and features that make it preferable for specific situations or occasions. Different events call for particular types. For instance, it is the most preferred banner for indoor presentation and signage.
We've highlighted some of the most popular fabric banner templates below from BannerBuzz and BestOfSigns. Remember, there are lots of other templates and size dimensions to choose from besides the ones you see below.
BannerBuzz Styles
Customer Reviews
One buyer said that they were late in choosing a custom banner for a golf outing. They were so happy to be able to style and design the banner and get the banner at their doorstep in a week. It was stunning and they re-created their logos to really make it look just great.
Another reviewer said that the banners were created and shipped ahead of schedule for a show in SportLand at the Body Mind Expo. Each of them look wonderful, the reviewer said!
Another buyer said that they offer really good prices on banners – a lot better priced than similar online vendors. The design tool is simple to work with, as well.
BestOfSigns Styles
Customer Reviews
One reviewer said their big fabric banner showed up quickly and looked excellent. They're getting excited about making use of it at a major business convention in January.
Another buyer said that BestOfSigns provides superior web design tools for your banner, superior service and professional customer support assistance. The caliber of their order was outstanding.
Another buyer said they'd been ordering promotional material for their office convention and have dealt with a number of companies over time. Their 1st interaction with one of their rivals was terrible and their art department didn't have the ability to help them design their banner. That motivated them to try BestOfSigns instead. They reported that they're incredibly happy and they're already a returning customer.
More Details
This is a banner made from high-quality polyester or nylon blend. The soft material's texture makes it most appropriate for indoor use. The banner is made through a dye-sublimation printing process where inks are injected into the cloth for ultimate accuracy and maximize the color's vibrancy. The polyester content of the material ensures that minimum light is reflected and offers a light sheen that enhances the sublimation process (Source).
Choosing a Fabric Banner
When you are looking to make a fabric banner for any of your presentations, such as advertising, there are some features that you should bear in mind. Such could include the following:
Versatility: The best fabric banner choice would be one that can appropriate for both indoor and outdoor advertising, for instance. Get a banner that has no limitations. In most cases, they may not be considered for outdoor use due to adverse weather conditions such as wind. However, one that has a vinyl scrim can withstand harsh weather. Furthermore, it ensures that the colors on your banner do not fade.
Size: The booth where you aim to mount your banner determines the size of the banner you make. Ensure you make the right size banner that will fit your presentation or message. Usually, the size of the banner should be one-third the size of the booth. Scaling, to some extent, determines whether people will pay attention to your banner.
Design: The sole purpose of a banner is to influence your audience according to your liking. As such, the style of banner you make or acquire should fall in line with your expectations. It should maximally promote what you are presenting or offering. Furthermore, it should correctly display the desired message.
Making Your Own
Advantages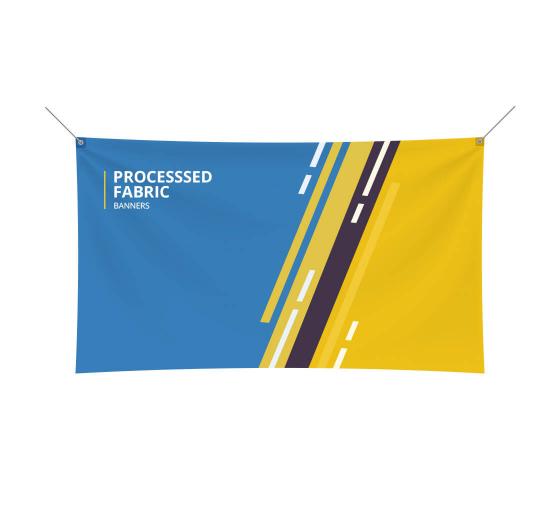 Fabric banners are considered to be better than other material owing to the following reasons:
More Aesthetically Appealing
These banners have a better look and feel than any other material's banners. They are the most preferred for most professional presentations and advertising. The fabric threads ensure that color kicks in ideally to bond with the polyester threads to give the best color vibrancy making them look beautiful. This further makes images look sharp with a photographic effect.
Wash-ability
These types of banners can be cleaned accordingly in case it gets dirty. Such a feature is not common with most other brands. This gives them an edge over the others and hence is more preferred. They can be comfortably machine-washed or dry-cleaned.
Durability
Under the right conditions, this type is bound to give you a service life of up to three years. The strong threads come in handy to provide them with a long life.
Easy to Store and Transport
A fabric banner, no matter the size, can be easily folded for storage or transport. The ability to fold significantly reduces its bulkiness. They are light in weight, which adds to their portability.
Safety
Top-quality banners are mostly made of flame retardant materials. This reduces their flammability in case of fire accidents and hence upholds safety.
Wrinkle and Crease Resistant
While other banners are susceptible to wrinkling and creases, fabric ones are not very prone to such. Moreover, in case of any, they can be quickly ironed out. This makes them the best for professional presentations.
Disadvantages
This type of banner also comes with its share of flaws that are quite undesirable. These include the following:
Maintenance Engagement
In case it is stored for a long time, the fabric material is bound to develop wrinkles and creases. This means you have to iron it out before you mount it up. Moreover, cleaning engagement is not fun at all, especially if the banner is big.
Furthermore, these banners require seaming to avoid the edges from tearing.
Not Ideal for Long-term Outdoor Use
No matter how functional and appealing a fabric might be, it cannot last long outdoor. With adverse weather conditions such as rain and wind, the material is bound to tear down. Furthermore, exposure to these conditions is bound to fade out the colors.
More Expensive than Other Types
This type of banners is more expensive than the rest. Such could be attributed to the fact that they require more costly printers to print the material. The cost of making print outs is way higher than with the others hence their higher cost.
Susceptible to Stains
The fabric material is vulnerable to stains and can easily get soiled. Consequently, if you are not careful, your banners may be messy, which would prompt you to make other banners, which would be expensive. Corrective measurements are out of the question in case of stains; you have to buy or build another banner.
Not Easy to Set Up
With this type, the set up is not always smooth. They require straightening or even ironing before they can be set up. Due to this, one can only incorporate other mounting techniques, such as hanging them with wooden dowel rods.
Summing Up
Although fabric banners are the most appealing of all types, they might not be the best in all situations. For outdoor engagements such as advertising and signage, it is advisable to opt for other brands such as vinyl, which are built for harsh conditions. However, for indoor use, the fabric type is the best and most preferable.