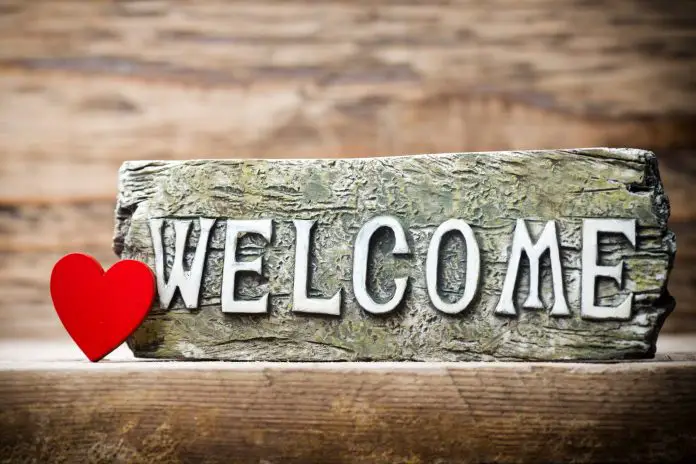 A welcome sign imbues your home with a comforting aura, much like these gorgeous home sweet home signs. Visible from the street, guests will feel happy to arrive, knowing that they are indeed 'welcome' on your property and to your residence.
But, make sure you have a no soliciting sign posted to keep pesky salespeople away.
Welcome signs are also important for weddings, engagement parties, baby showers, dinners and other corporate events. They not only give direction to the place where the event is, but they also add to the décor. These are some of the welcome signs that you can use or even make:
21+ Awesome Welcome Home Signs
1. Welcome Wooden Board Sign
This simple and classy wooden sign will look good on your front door. You can give this to someone as a housewarming gift.
2. Beautiful Wooden Home Sign with a Ribbon
This beautiful wooden sign will give your home a chic look. The white and black ribbon makes the sign look so charmingly rustic. This sign can also be given as a gift to a loved one.
3. Welcome Hut Shaped Signage
https://www.instagram.com/p/CMHqbefj10g/
This sign is beautiful and unique. Do you have a garden wedding or any event outdoors? This sign will make your event look amazing. The birds on the welcome sign are just too cute. You can even write a custom message on it- for example, an unplugged wedding sign would look gorgeous on rustic wood.
Make Your Own DIY Welcome Home Sign
4. Rustic Outdoor Welcome Sign
If you are a goofy and fun-loving person, this sign for you. Your farmhouse will look exceptional with this wooden sign that is a gorgeous white. Watch your door transform from basic to beautiful when you hang this sign up.
5. Vintage Mirror Welcome Sign
How beautiful can a vintage mirror be for a dinner event, an engagement party, or a wedding? This mirror welcome sign is so beautiful and gives your event a chic look.
6. Beautiful Floral Home Sign
This handmade decor is beautiful and will look good on your door. Especially for those who have pets, this floral sign is what you need for your door.
7. Wooden Welcome Sign with a Hook
Wooden signs always look good. This unique wooden welcome sign has a hook where you can put your flower vase. You can put this on your front porch and you will see how beautiful your porch will be.
8. Acrylic Board Welcome Sign
This welcome sign is so beautiful and unique. For any indoor event or outdoor event, you will want to have this acrylic board welcome sign to bring out the class in your event. You can also consider using an A frame sign for a bit more real estate.
9. Rustic Décor Welcome Sign
These welcome signs are beautiful for your home. You can hang it on your door or better still place it in your house on top of a shelf.
10. Easter Egg Door Hanger
Do you have an event during Easter in your home? This beautiful handmade Easter egg will not only look good on your door but keep the Easter spirit alive.
11. Perspex Welcome to Our Wedding Sign
This Perspex welcome to our wedding sign is unique and beautiful. It is painted green and the letters are written in gold vinyl. You can get such a sign with the colors of your choice. You can use this for your wedding, engagement party or as a baby shower banner.
12. Clear Calligraphy Welcome to Our Ceremony
If you are all about class and sass then this one of the best welcome signs you can get for your wedding ceremony, engagement ceremony, outdoor events or even indoor dinner events.
13. Burnt Orange Wooden Sign
There's so much simplicity yet so much beauty in this sign. This sign will look beautiful in your wedding ceremony. The burnt orange color makes it cool and brings out a chill vibe. Add some flowers to make the sign stand out.
14. Easter Bunny Welcome Sign
This Easter bunny welcome sign is so cute and attractive. You can get this during Easter season to give your home an Easter feel. Your kids will especially love this.
15. Welcome to our Home Wooden Sign
This wooden sign is simple and will look good on your front porch. You can also use it on your farmhouse door. It's simple and easy to make by yourself.
16. Personalized Circle Wedding Sign
If you are all about simplicity, this sign will look so good at your engagement party, baby shower, wedding or corporate event.
17. Bible Verse Wooden Sign
This unique wooden sign is beautiful and will not only give your home a beautiful look but it will also give you a sense of security as a religious person reminding you of what you believe. For instance, you can get one with your favorite bible verse etched on it.
18. Hello Wooden Sign
This wooden sign will make your home stand out. Apart from that, it will inform your visitors that you have a pet and they should just prepare psychologically to see one. The good thing is you get a personalized wooden sign with your pet's name.
19. Welcome Wood Bark Signage
This sign brings a vintage look to your home. If you are going for that vintage look for your farmhouse or your home, then this handmade bark sign is what your home needs.
20. Stay a While Wooden Sign
Wooden signs are simply beautiful and the message on the sign makes it better. For all the kind people, this is what your home needs to make your visitors feel welcome and wanted.
Having a welcome sign on your door will make your home look beautiful and unique. It also gives your visitors a warm feeling that they are indeed welcome to your home.