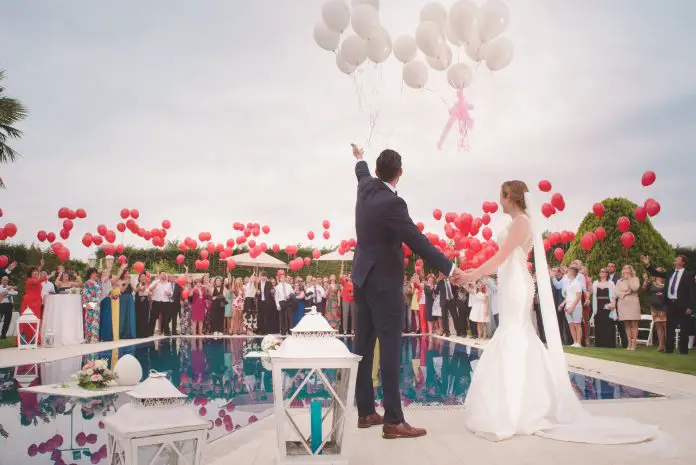 If you've ever been to a wedding, the worst thing that can happen is a phone ringing during this most cherished moment.
Or, maybe you just want the moment to remain private and keep wedding guests from snapping photos.
You don't want to ruin the special vibe by being an authoritarian and forcing people to give up their smartphones at the door. The solution? Some decorously worded unplugged wedding ceremony signs.
These signs use humor and grace to compel your guests to turn off their devices- ensuring that you have a blissful ceremony.
Below, we'll be looking at some of the best unplugged ceremony sign ideas to drive your point home. Check out the style and wording for DIY inspiration, or shop the look to buy your own.
Best Unplugged Cellphone Wedding Signs
1. The Lilgreen Cricket
This is one of the most stylish unplugged ceremony signs that you can find in recent designs. The sign is written on a rectangular standing glass and also has a bit of humor inside it. First, you can see someone holding their phone as if ready to take some photos. What follows are some instructions on keeping your devices turned off.
2. Kenzie Nally Weddings Transparent Design
Like the first option, this design follows a similar approach. However, it's written in a different yet stylish design. This unplugged ceremony sign is also created on a rectangular piece of glass, which looks quite artistic.
The sign isn't necessarily commanding you to turn off your devices, it's requesting in a polite manner. You can use it at any event where you want all your guests unplugged and fully present.
3. Lucky 13 Letters No Cell Phone Sign
This unplugged ceremony sign oozes complete elegance in a simple and stylish design. The request of being fully present by turning off the phones and cameras is written in a polite way and the fonts used are pretty attractive.
Furthermore, the instructions are on an oval-shaped mirror with a wooden-design frame that displays nothing but beauty.
4. Birch Hill Designs
When it comes to the best unplugged ceremony signs, it seems that glass-designed signs are the go-to options. Here, we see another sign idea still written on glass but with a bit of color added to the request.
The large rectangular glass with the request sits on a wooden stand for stability and you can use this sign on any of your ceremonies.
5. Birch Hill Designs
Here's another by Birch Hill Designs, this unplugged ceremony sign is displayed on a wooden rectangular frame. The wooden design alongside other details make this sign look as natural as ever.
You can place it on the floor but besides a wall, on the living room counter if the ceremony is at your house, or place it on a dedicated stand.
6. Blush n' Letters Co No Cell Phone Signage
This is another wooden design unplugged ceremony sign that you can use on your wedding, birthday get-together, baby shower, among other ceremonies. It sits on a banner stand, meaning that you can place it anywhere, including your front entrance, inside your house or the event, and any other visible place that you might think of.
7. Great for the Outdoors
Placed against a barrel, this unplugged ceremony sign adds to your event's beautiful décor. The requests are written on a square-shaped wooden frame that politely requests you to be fully present.
It's great for the outdoors and works even better if the ceremony is in a garden setting.
8. Love Rose Events Unplugged Ceremony Sign
Like most of the signs that we've looked at, this one by loveroseevents is another idea worth looking into. First, it's written on a rectangular-shaped glass frame and features a blue background painting.
The sign first welcomes you to the event and follows by politely informing you that the event is an unplugged ceremony. The good thing about this sign also is that you can place it anywhere, but the entrance would be more effective.
9. Simple Unplugged Wedding Sign
https://www.instagram.com/p/CLd5HBDjwft/
Understandably, not everyone is into the stylish and elegant unplugged ceremony sign. People are different and some prefer a more chill, simple, and straightforward sign.
That is what this idea offers you, nothing too fancy but just enough details to get your message through. First, the request is written on a plain board, which sits on a stand that you can place anywhere in the ceremony.
10. MP Custom Crafts Please Turn Off Announcement
Here, you get a glass design unplugged ceremony sign that you can use on any of your ceremonies. This sign hangs on two hooks and both the welcoming message as well as the staying unplugged request are written on a rectangular-shaped see-through glass.
The stand features flowers and using this sign on your wedding ceremony in a garden setting would be a great idea.
11. Don't Be Them
Nowadays, everyone now can take a picture thanks to the portable cameras that come with our phones. And smartphone brands are really paying attention to how good the cameras in their phones are.
You can now take photos anywhere you go and at any ceremony you attend, as long as you have your phone with you. But while some couples or other event hosts don't mind a few snaps from their visitors, others don't like the paparazzi thing so much.
If you fall under the latter category, then this piece might help you speak your heart at your ceremony.
As you can see, there are different ideas if you are looking for the right unplugged ceremony sign. You only need to hone the languaging a bit for your personal style and either make or buy a sign of choice.
It will not be fair for you to blame people if they do something that you do not like. However, if you let them know with creative unplugged ceremony signs, then no one will have an excuse. It is good to be straightforward if at all you want to achieve happiness at your ceremony. You can even create some parking signs for your wedding to let people know what to do with their cars!