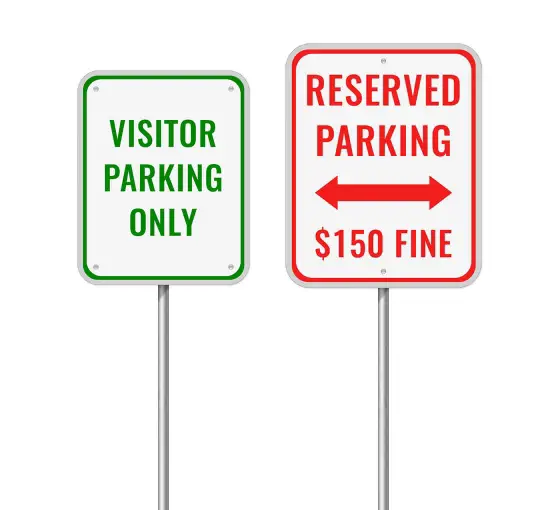 Do you need a custom parking sign to guard your private driveway or help regulate your parking lot?
We recommend using BannerBuzz or BestOfSigns to create a custom parking sign. You can use their online design tools to quickly produce an attractive and informative custom parking sign for your property.
Besides traditional no parking signs, reserved parking signs, you can even create novelty parking signs.
Take a look at some of their most popular parking sign templates:
Custom Parking Sign Templates
How to Install A Parking Sign On A U-Channel Post
A parking lot or public space is not complete without signs that direct and guide drivers on how to park. Parking signs can show the direction of traffic flow, designate reserved parking spaces or areas, restrict parking, or even creatively display a logo or a business name.
The broad uses of parking signs often demand more than just your standard signs. Custom parking signs address these broad needs and can provide an opportunity to be creative and expressive while still being practical and informational.
Such signs could serve well in parking lots of churches, businesses, schools, parks, and apartment complexes. They work well in industrial parks, medical and professional parks, grocery stores, and housing subdivisions.
What are Custom Parking Lot Signs?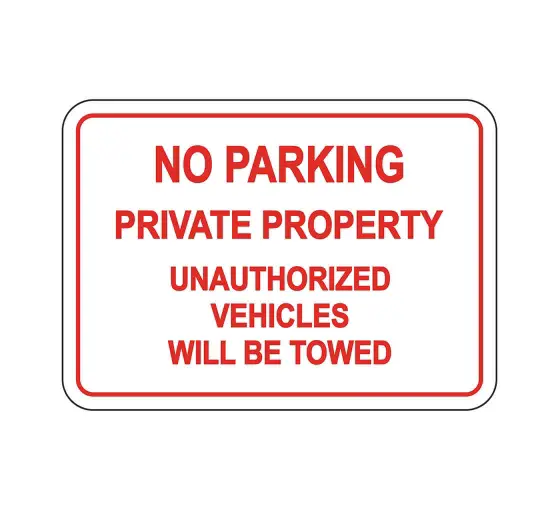 Custom parking signs are usually aluminum signs in a custom-selected shape, size, and thickness that display personalized printed content.
Signs can be created with the help of online templates or designed from scratch by the buyer or the seller.
These often carry content specific to a business or locale with needs that cannot be met by standard and traditional signage.
For example, the website myparkingsign.com advises the use of reserved parking spots for customers as a way of leaving a lasting impact on customers and increasing brand recognition.
Such reserved parking spots would require a custom sign with the proper designation.
Buying Guide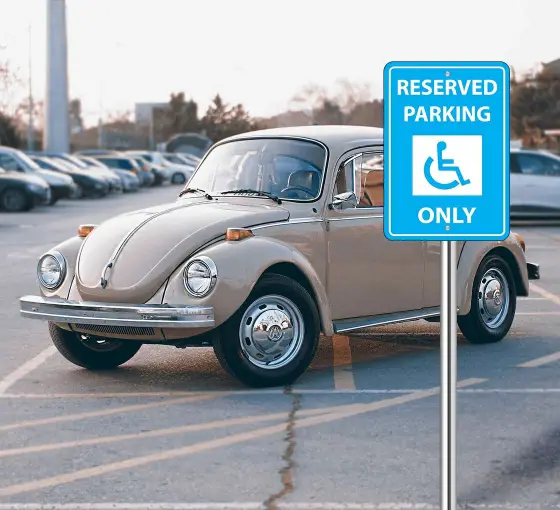 Customization of anything usually includes a multitude of options and therefore decisions to make. It can be a difficult task, especially if you do not know the extent of the options available to you.
The look, feel, construction, content, and mounting of custom parking signs are all aspects that can be customized; and there are a number of options of which you would want to be aware so that your decisions are informed.
Material
The options for material are not too varied. There are only a number of materials that are suitable for the outdoors. These
include corrugated plastic,
aluminum,
aluminum composite material (ACM),
and to some extent, wood or wood composite materials.
Aluminum is by far the most used material in permanent parking signs, but ACM is an affordable option that withstands the weather and the elements nearly as well.
For more temporary or short-term signage, corrugated plastic is a very economical option. This is the material of which the majority of political signs are made, and they withstand the weather well, though they are flimsy and will not serve as a lasting solution to a long-term need. Corrugated plastic is a fluted polypropylene.
Since there are flutes that run in a single direction through the material, you must take into consideration the orientation of those flutes in the final product.
Since most of these signs are mounted on H-stakes via rods that are inserted through the flutes, corrugated plastic signs in most cases have their flutes running vertically to allow for this.
Size
Like many characteristics upon which you will have to decide, the options of sign size are multitudinous. In the case of aluminum, there are standard sign blanks that come in sizes such as 12″ x 18″, 18″ x 24″, 24″ x 24″, and 24″ x 36″; to name a few.
Aluminum also comes in a standard sheet size of 48″ x 96″ and allows for a seemingly infinite amount of sizing options, as most sign manufacturers have the ability to cut from the aluminum sheet whatever size you specify. In the case of ACM, corrugated plastic, and other materials, they also typically come in 48″ x 96″ sheets, and so the same broad sizing options exist for them as well.
Thickness
Sign thickness ranges, in the case of aluminum, from .040″ to .125″. Common thicknesses within this range are .063″ and .080″. Corrugated plastic is most commonly in 4mm (0.16″) while ACM comes in 3mm (0.12″) and 6mm (0.24″). Considerations for thickness depend largely on the size of the sign, as larger signs tend to last longer in greater thicknesses.
Shape
With the ability of most sign manufacturers to cut to whatever size and shape you desire, the sky is the limit with this option. You could have your sign cut to the shape of your company logo or to a brilliant starburst or even to a word cloud or thought bubble.
Typically, however, available shapes range from squares to rectangles and diamonds to octagons.
Many of the aluminum sign blanks come in these pre-cut shapes. In the cases of the square and rectangular signs, there are even additional options of square or rounded corners.
Reflective Versus Non-Reflective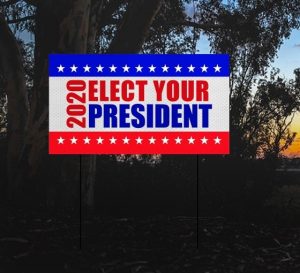 (reflective sign example)
Though not as regulated as traffic signs when it comes to reflectivity, parking signs can be manufactured to either be reflective or non-reflective. There are three types of reflective aluminum that can be used to give your sign a nightly glow.
These are Engineered Grade Prismatic (EGP), High-Intensity Prismatic (HIP), and Diamond Grade. EGP should suffice for custom parking signs if you desire a reflective sign, as HIP is typically used for permanent traffic signs, and Diamond Grade is used for the most critical of these traffic signs, like speed limit signs. HIP is still an option if you desire a sign that is highly reflective, as it is three times as reflective as EGP.
Diamond Grade is three times as reflective as HIP. If you have opted for a different material, there is always the option of a printed reflective vinyl applied to the surface of the base material.
Mounting Hardware
Now that you have decided on the look and construction of your custom parking sign, you are faced with the decision of how you will mount or display your sign. You can't just install them with grommets like with common trade show banners. In some cases, it may suffice to mount your sign to the face of your building if it sits in close enough proximity to the parking area your sign identifies.
In most cases, however, it will need to be freestanding. A permanent in-ground sign allows for several hardware options. Many in-ground parking signs are mounted to u-channel posts. With safety in mind, u-channel posts are often available as breakaway posts.
These include a smaller length of u-channel that is mounted in the ground. The longer length, on which the sign mounts, is attached to the smaller section with breakaway hardware.
This reduces vehicular damage in the event of an impact. Some other options for signposts are round or square posts. Square posts can also come as a break-away kit. With round posts, it is important to use mounting brackets for attaching your flat sign to the round surface, whereas mounting brackets are not necessary with u-channel and square posts.
To facilitate a hassle-free installation, signs can be ordered with pre-drilled holes for attachment to the mounting hardware.
Another freestanding option, which doesn't require setting your signpost permanently into the ground, is a pedestal base.
As grimco.com states, these are typically used for signs for valet parking and for temporary directional signs. Some pedestal bases are weighted and portable. If portability is important, consider pairing corrugated plastic signs with plastic sandwich board displays. These are two-sided, angled displays that typically have wheels for ease of mobility.
Design
Here is where your custom parking sign has the opportunity to shine. A custom sign, like a custom window cling sign, is usually connotative of original content. From the perspective of the art design, the sky is the limit. Your sign could have a border or not. It could have a landscape or a portrait orientation. It could boast a proud logo or tagline, or it can simply be a novel pictograph that elicits humor.
Whatever you desire, there are a couple of methods of achieving this. Many websites like myparkingsign.com and buildasign.com offer templates that allow for easy design. As an alternative, buildasign.com, for one, offers a "start from scratch" option that allows some basic personal designing.
There is also the option of using a design firm or graphic designer to create your custom parking sign art for you. If you are knowledgeable of graphic design and have the resources, such as Adobe Illustrator, for designing vector artwork, you could create and submit your own files to the sign manufacturer.
Common file types that are acceptable to sign manufacturers are vector files with extensions .ai, .eps, or .pdf. For easy visibility, most designers will suggest that any and all fonts be of the sans serif type, which are simple and lack decorative elements.
ADA Guidelines
It is likely that among your custom parking sign needs exists the need for such signs as handicap parking. Most sign manufacturers will know the requirements for being in compliance with the Americans with Disabilities Act (ADA).
Beyond the design of ADA signs, there are also regulations concerning the sign size and access of handicap parking spaces. To be certain that your signs are in compliance, visit ada.gov.
Conclusion
Whether you are the property manager for an apartment complex, or a youth pastor in charge of deciding on a signage program for your church, or a medical professional laying out the parking requirements of your parking lot; there is a whole realm of possibilities for your custom parking sign needs.