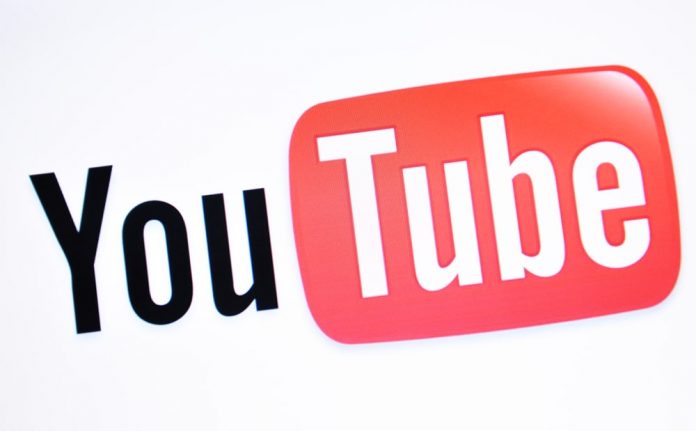 I love being a YouTuber. I love making videos about anything and everything. I love being able to share my life with you, my audience. What better way to do that than through Youtubing? It's my job! I have an audience of thousands (hundreds?) of people all over the world, including people from the UK and Ireland, like myself. And it's amazing. It really is a privilege to be able to share my life with you for as long as I can!
One thing I've learned- to get your channel looking really professional, you've got to optimize your channel art…
Are you wondering what the size of a banner should be in your YouTube channel? Are you interested in capitalizing on this invaluable social media real estate to make a huge, glossy splash? In this article, we'll cover the size requirements plus show off some gorgeous and counter-intuitive channel art examples!
Sizing summary
The Recommended YouTube banner size is 2560 x 1440 pixels
The minimum acceptable banner dimensions are 2048 x 1152 pixels
YouTube's minimum image safe area for text and logos: 1546 x 423 pixels (this is the dimensions recommended for mobile device views)
YouTube's maximum accepted image width is 2560 x 423 pixels
Inside Edition: An Example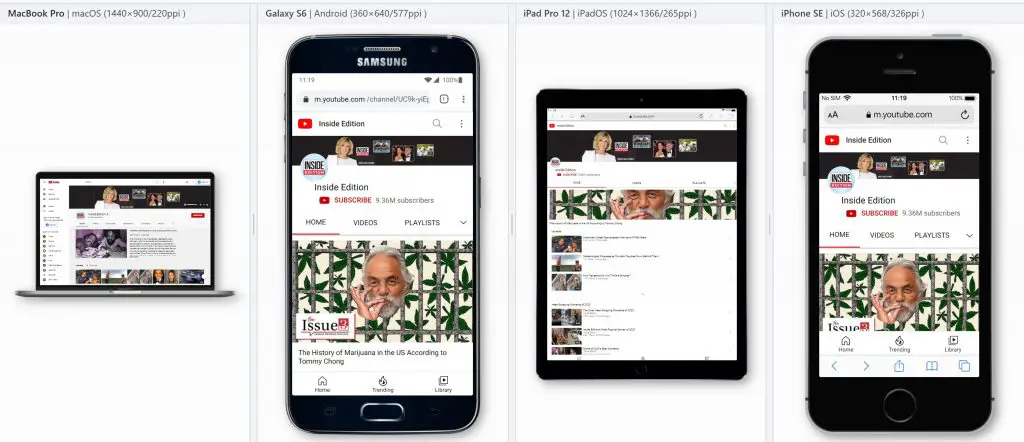 (Click image to enlarge)
You can see that the Inside Edition banner performs well across a range of devices- from a laptop, an iPad to a small, early-generation iPhone. If you get yours correctly sized, it'll display just like this.
Some Channel Art Template Examples from YouTube
If you need some inspiration for banner ideas, check out how some of the big-time influencers are designing their video channel art.
Dude Perfect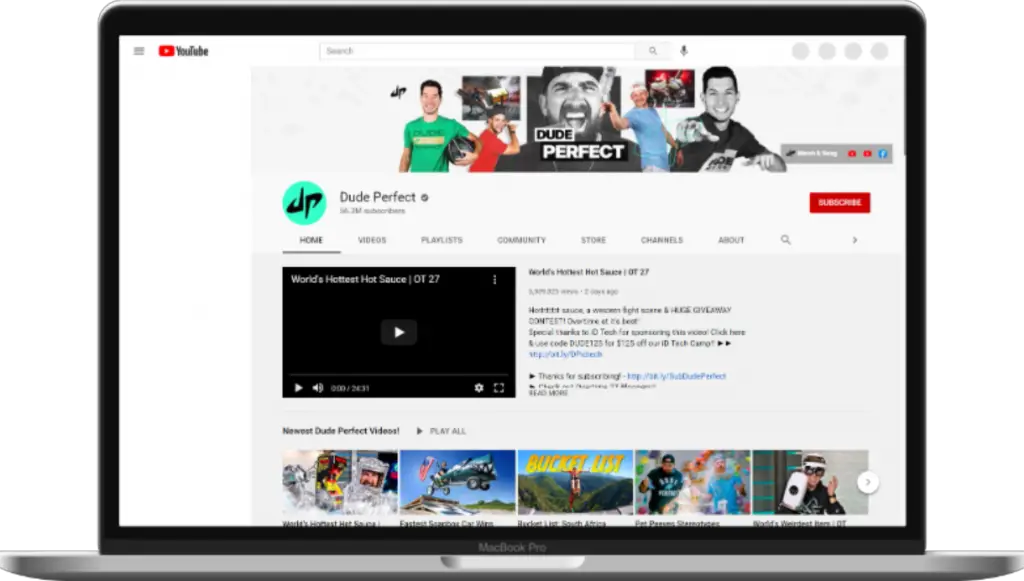 Dude Perfect has a nice compilation of fun, outgoing pictures.
Mr. Beast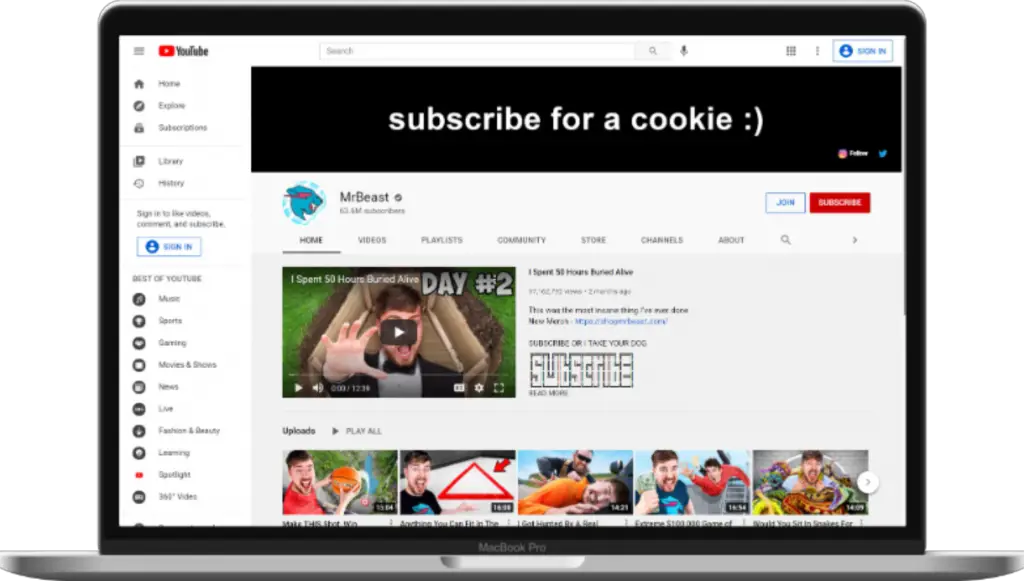 Mr. Beast has a counterintuitive example- just a simple ask for subscribers.
Matt Stonie
Matt Stonie is an American competitive eater who has held six Guinness World Records. He is one of the most successful and recognized eaters in the world. His banner is loaded up with food images.
Demolition Ranch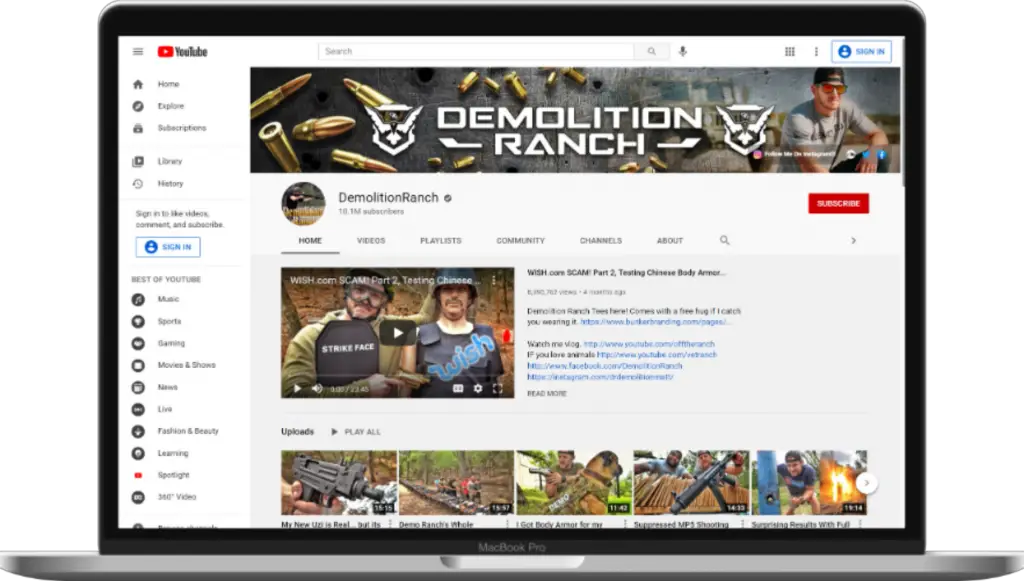 Demolition Ranch is a YouTube channel that is full of demolition-related content. Demolition Ranch focuses on teaching individuals how to demolish different types of objects. The bullets in the banner really convey the channel brand.
YouTube Channel Art Size Guidelines
There are two major areas that photos can be added to a YouTube channel. The profile image used to be under the influence of Google +, but now can easily be modified from within Creator Studio. According to YouTube, the only other area that photos can be added is what is known as "Channel Art."
The equivalent of channel art on social media devices is "Cover Photo" or header image on Facebook and Twitter. It is usually the first thing that a person sees when they visit your channel because it takes a larger part of the screen, especially on a desktop.
Of course, YouTube can be visited both on desktop, tab, or a mobile phone, and the display of the channel art is different for these various devices. If you are using a web browser on a desktop and on a mobile device, for instance, the display of the channel art is a panorama that is horizontal and narrow (aspect ratio is 6:2:1).
On television, the display is as a full-screen background, and the aspect ratio is 16:9. However, you must be cautious when you choose your YouTube banner image because it has to be one that is suitable for any screen. It should not be an image that favors a TV over either your desktop, smartphone, or tab.
Before getting to choosing an image that works on all the devices, the image should first meet the basic requirements set for banner images on YouTube.
YouTube Channel Banner Sizes
The minimum size of an image for a YouTube banner is 2048 pixels wide and 1152 pixels in height. Any image that does not meet this minimum requirement will not be accepted. YouTube sends an error message when the image is smaller.
YouTube recommends that the best banner size to use is 2560 pixels wide with a height of 1440 pixels. The recommended 2560 x 1440 size might not work on social media platforms. There will certainly be a difference in the appearance of the image depending on the social media platform on which you upload the image.
It is better to keep the logo and the accompanying text you intend to use within the minimum safety area recommended by YouTube – that is, 1546 (width) x 423 pixels (height). If your text and image do not fall within these given areas, they might be completely or partially cut off when viewers using social media platforms or mobile phones try to view them.
Know Your YouTube Banner Safe Area
The YouTube banner safe area, as was given above, is 1546 x 423 pixels. As we pointed out earlier, you should ensure that crucial content on your banner should remain within the banner safe area.
How to Make Your YouTube Banner Look Great
Use a good font
Make the design simple
Add the tag or slogan of your brand
Use a high-quality image
How to upload YouTube Channel art
The steps are as follows:
Go to your YouTube channel. Access your YouTube channel Creator Studio by clicking the channel icon on the top right of your screen.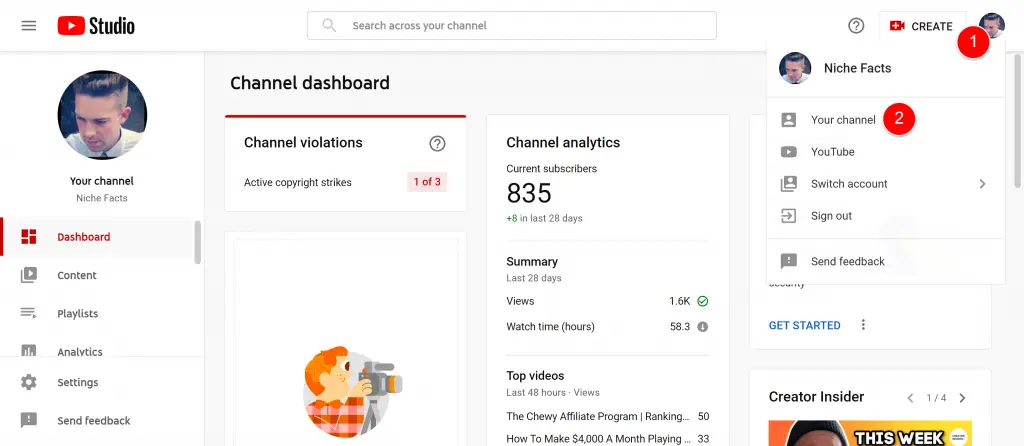 Next, click "View Channel," located at the top middle area of the Creator Studio homepage.
On the homepage of your channel, you'll see the option, "Customize Channel." Click the blue CTA that provides this option.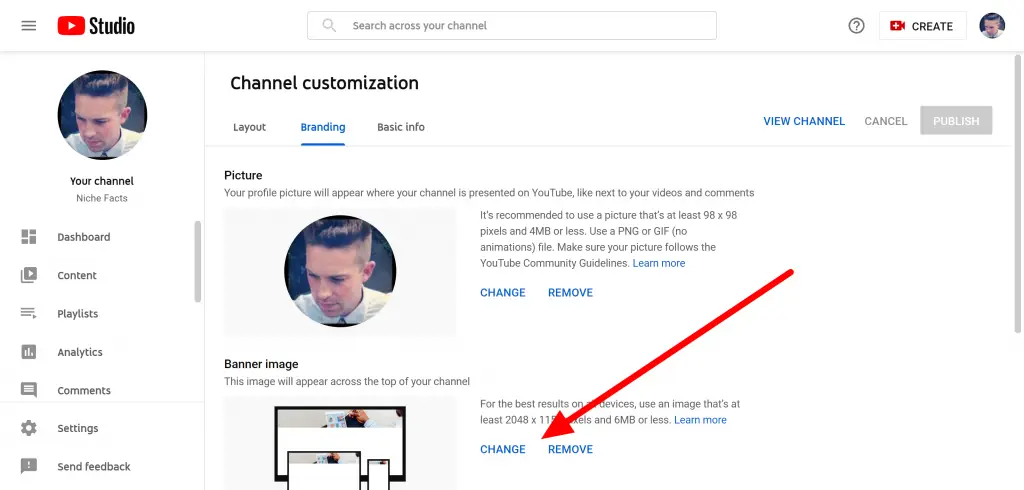 The next thing is to either select Change under Banner Image and you'll be able to add or update your Banner Image. You can select an image from the ones you have previously uploaded or select a new file from your computer's local directory. When this is done, a preview of its appearance on a desktop, TV, and mobile phone will be displayed.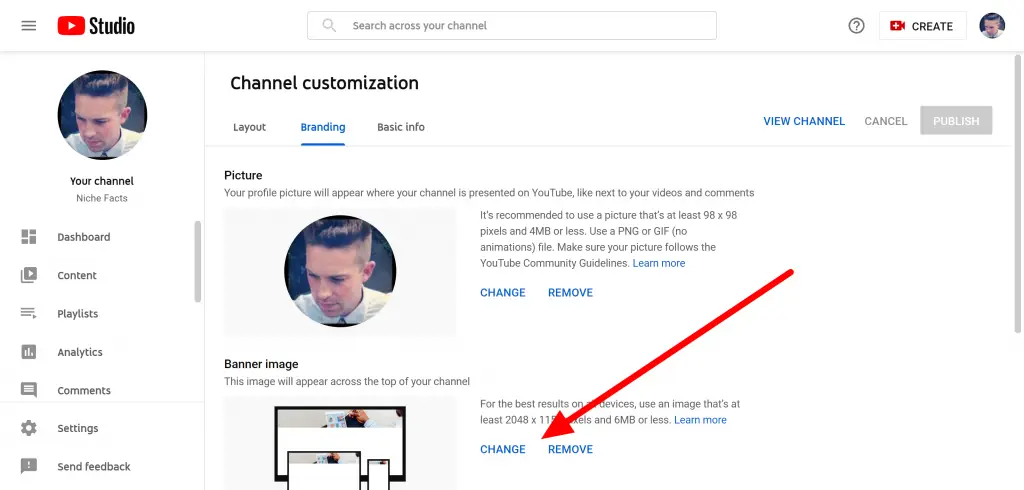 Then, you can crop the image how you please. Be that as it may, your adjustment can only be done in a way that leaves space above or below for TV display.
When you're done, click Save. Your channel art will then be saved to your profile.
Create YouTube Channel Art Easily with Canva
If you want to create a YouTube banner, channel art, or YouTube thumbnail that sticks out, try using Canva. There are available templates that meet the requirements for image size: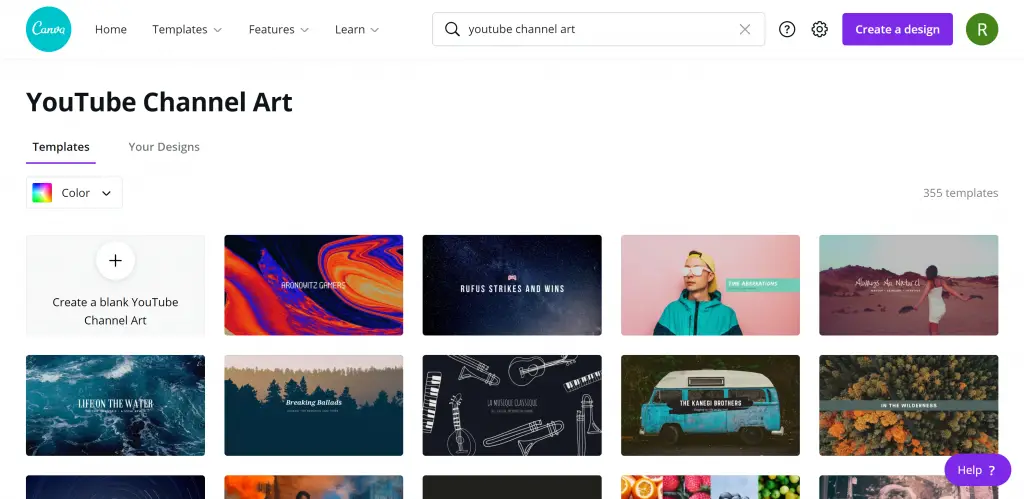 Canva has a mobile app from which you can easily do this.
YouTube Channel Art Best Practices
Having a YouTube channel is good and all, but when it comes to creating a banner, you must create one that really represents what your business is about. However, there are best practices that can help you create a good banner.
1. Don't focus on mobile screens alone
Sometimes when designing channel art, people tend to focus more on mobile phone screens. This is not really a terrible thing per se, but by so doing, you limit your audience to only smartphone users.
There are people who might visit your website using desktops, tabs, or a TV. Focusing more on mobile phones will make you create a banner that will look great on smartphones but be small on larger screens. It is in your best interest to ensure that your banner looks good on both small and large screens.
The best way to make a YouTube banner look good even though it is designed to fit mobile phones is to have a background image (this image should not be one that stands out). When you have a background image, it fills up the areas around your channel art so that no empty spaces are surrounding the channel art.
1. Ensure that you make provisions for the Channel Icon as well as Social Sharing buttons
If you take a careful look at the banner art of most YouTube channels, you'll find that two things are placed on top of the banners – social sharing with a link to a website and the icon of the channel. These are things you need to consider when you are designing a banner art for your own channel.
You will be better off having people who visit your channel and have a way they can reach you on other platforms such as social media and your website. When you make these available, it becomes easier for them.
However, while you want to involve social sharing and site links, please do so in a way that they do not hide any important information or elements in the design of your channel art.
The channel icon is best placed at the top left corner of the banner (though not too deeply into the corners), while the links to your website and social platforms will appear at the bottom right corner of the banner. Since these are the best positions, you should ensure that no important information is placed in these areas.
2. Use only images of high quality!
This is usually common on social media platforms where an image that is upload is just the right size for the thumbnail; however, whenever these images are viewed on full screen, they tend to look blurry and do not have the right scale.
This is not something you want to happen when your YouTube banner is viewed on a television screen.
Avoiding this is not much of a hassle – there are, in fact, two ways by which it can be avoided. The first one is to go along with the guidelines that YouTube recommends for image size. When you use an image with the exact dimensions, YouTube recommended that when the image is scaled on a larger screen, it will still look good.
The second way is to use high-quality and high-resolution (high res) images if there is a possibility for the latter.
3. Make use of designs that are clean, clear, and simple
Most internet users who will visit your channel will either use their desktops or their mobile phones and given the recommended dimensions, it is a small rectangle. It will, therefore, only hurt your channel when you use a banner with too much design filling up the given space such that identifying your logo or social links becomes difficult.
4. Make sure the design blends well with your Channel Icon
Your YouTube banner and channel icon ought to work well together, considering that its position on the banner will be the top left corner of the banner. Both the channel art and the icon should not disagree.
Adding social media icons to your YouTube banner
Adding social media icons to your YouTube banner creates a path for easy communication with subscribers. There is no need to over-emphasize the importance of having a social presence.
To add social media icons:
Click the user icon in the top right corner of your screen
Select my channel in the dropdown menu that appears
Then, click the button titled "Customize channel."
Next, click the "About" tab
Finally, add the URLs of any social platform you want to link to
Conclusion
In a nutshell, the:
The minimum dimension for your image is 2560 pixels x 1440 pixels
The minimum safe area for logos with accompanying text is 1546 pixels x 423 pixels
The maximum width is 2560 pixels x 423 pixels – the image will be seen regardless of the screen that the image is being viewed.
The maximum size for the image is 6MB (this means that the image can be smaller).
All these requirements must be met for your YouTube banner, and channel art to look good on mobile phones, TV, or desktop. Check out these Twitch image dimensions and these Twitter image dimensions if you're on these platforms, as well!