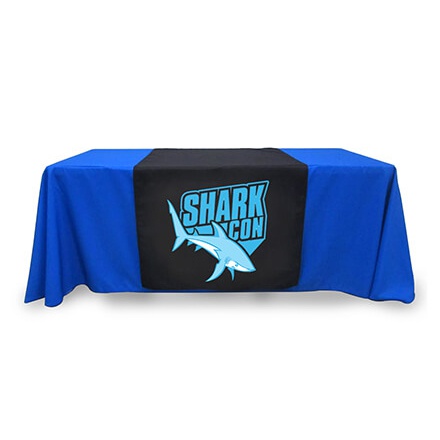 There are many techniques for hanging up a table runner or table banner, and the best part is once you learn how to put a banner the right way, you don't have to buy expensive tools and appliances.
Generally, if you've purchased your table runner from somewhere, there will be included attachment pieces. However, if you still need some guidance- we've got you covered.
According to Printastic, the typical way to install a banner on a table is using a hook and loop fastener. A few strips on both sides and in the middle will correctly attach your banner to any table.
Using A Velcro Hook And Loop Fastener
Other Ways To Hang A Table Banner
Here are other common approaches to this:
Using a nylon rope: Nylon ropes come in handy when suspending them from large tables.
Hanging clips: These clips are ideal when displaying banners on chain link fences.
Zip ties: This option is ideal for displaying your banner on sizeable, albeit temporarily.
Common Considerations
Here are a few things to consider before you hang up a banner on a table:
Height: Most folding tables measure 29″ and 30″ in height. Typically one is advised to have a banner that is 24 or 25 inches high. This will help ensure no one trips over or steps on the banner.
Width: The standard foldable table width is 48, 60, 72, and 96 inches. Hence choosing 4, 5, 6, or 8 feet will be a good option.
When not to use table banners
Since most banners measure approximately 24 inches, it would be best not to use them on tables over 24 inches tall when you're setting up your tradeshow banners. At the same time, avoid using much smaller tables, lest they pose a tripping hazard.
As long as you have a tightly fitted table cloth, you will have no problem hanging your banner on the table. It would be best to rely on office binder clips, alternatively called banner table clips. By using a few hooks to the center top of your banner, you are sure of enhanced anchoring in the long run.
Hanging a banner with grommets is pretty easy because it's a simple way to take down and put up banners repeatedly. They also keep your banner looking elegant. This way, when you hang it from any of the corners, the grommets safeguard the material of your banner. Whether it is vinyl or fabric, the results will be the same.
Suppose you are desperate and do not have grommets on your banner nor have clips or ropes. In that case, you could also you can put something heavy on each corner of your banner and have it slightly on top of your table. A heavy rock or a brick will suffice at this point.
How To Make a Custom DIY Table Banner
The importance of marketing cannot be overstated enough. Different businesses infuse different strategies to help them with their brand visibility. The use of banners in marketing is a strategy that salespeople have been doing for years.