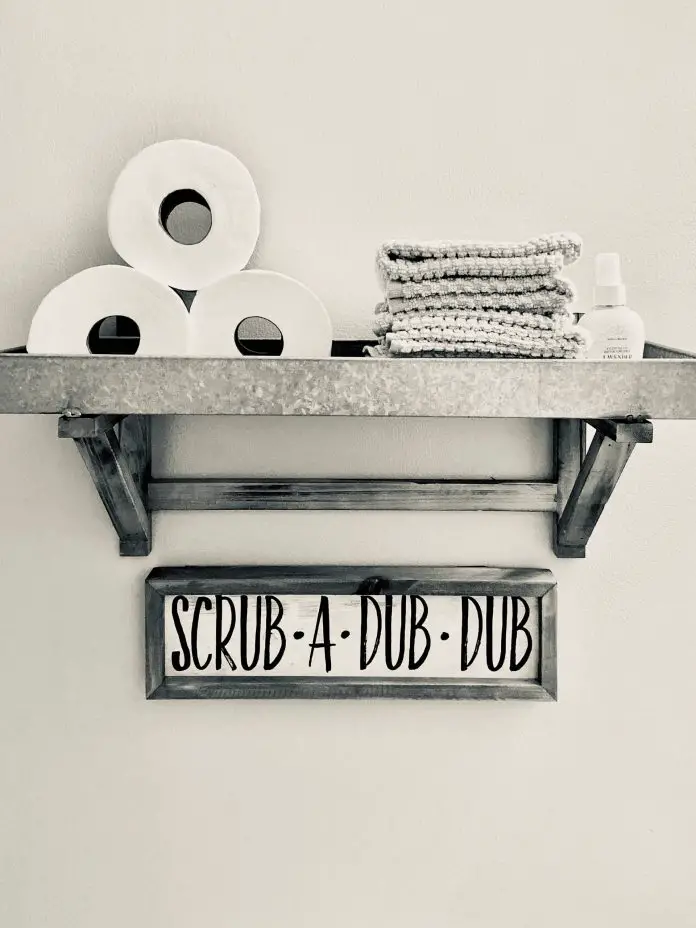 One of the most commonly neglected rooms in your home is the bathroom. However, you can agree that this is one of the rooms in which you and your guests spend most of your time. So, you might as well keep it beautiful and cozy. You can hang some funny and even informative bathroom signs to make your restroom a more memorable experience for its users. We've compiled some of our favorite examples below- take a look!
23+ Home Bathroom Signs
1. Cute Squeeze My Bottom Sign
Different people have different ways of using toothpaste and sometimes that can bring quarrels among people living in the same house. The right way obviously is to squeeze your toothpaste from the bottom. Some people need to be reminded all the time on how to use toothpaste and what better way than to use a beautiful sign.
2. Wash Your Hands Sign
Washing your hands is very essential after using the bathroom. Germs are everywhere and no one wants to spend their money on medical bills. This sign will give you an uncomfortable feeling whenever you leave the bathroom without washing your hands
3. Replace Your Tissue Paper Reminder
Sometimes we just need a reminder to change the tissue paper because we tend to feel lazy or sometimes forget to replace the tissue paper after it's used up. Make sure you do some sign measurements so that the fit and layout is on point!
4. Scrub a Dub Dub Wooden Sign
This scrub a dub dub wooden bathroom towel holder will give your bathroom that vintage beautiful look. It's always about the details, the font used on the words makes the sign even more beautiful.
Take A Video Tour
5. Decorative Bath Sign Decor
A simple white wooden "bath" sign that adds a great ambiance to your beautiful bathroom is what you need. It makes your bathroom look cute and cozy.
6. Take a Bubble Bath Cute Sign
You will definitely need this on a stressful day. Simple yet elegant and beautiful. Hang it on your bathroom wall and watch your bathroom come alive
7. Kids Bathroom DIY Sign
For your cute babies, you would love this sign which is simple but cute. You can place it outside your kids' bathroom to keep grown-ups from using it
8. Rustic Bathroom Decor Sign
It's all in the details. This bathroom sign gives a vintage kind of vibe. If you are the kind of person that appreciates a traditional ambiance, then try this sign.
9. Please Seat Yourself Hanging Sign
This easy to put up sign is not only beautiful but also classy. Stick this on your wall and watch your bathroom transform from simple to beautiful
10. Decorative Warning Sign
Goofy yet beautiful and elegant. If you are that goofy mum, then you would definitely go for this sign to warn your kids from peeing on the toilet seat.
11. Vintage Male/Female Powder Room Signs
Vintage male and female signs to distinguish between the toilets of the two genders, this will look good on your restroom door.
12. Farmhouse Toilets Sign
You don't want visitors getting lost in your guest house, this iron toilet sign is simple but adds a rustic charm to your home, hotel, or restaurant. Even better, is that it's easy to install.
13. Polka Dot Unique Wood Restroom Sign
For art lovers, this polka dot restroom sign is lovely art for your home or your business. It will give your wall a unique touch of beauty.
14. Simple Men/ Ladies Restroom Sign
Looking for a simple men and ladies sign. These magnetic signs will definitely work for your restaurant, hotel or business building
15. Bathroom Word Search Sign
If you accidentally forgot to carry your phone to the restroom and you are the kind that normally carries it to continue chatting or scrolling through social media, then this word search sign will keep you busy as you do your business.
16. Toilet Rules Restroom sign
This sign will keep the whole family in check by reminding each member especially the kids how they should use the toilet. It's simple yet beautiful and it will give your bathroom the beautiful touch it needs.
17. Grateful Country Restroom Sign
This one is for all the grateful positive people. This beautiful wooden and colorful sign will not only brighten up your bathroom but remind you that there are so many things you should be grateful about
18. His and Hers Funny Restroom Sign
If you are a fun-loving person then this sign will definitely catch your fancy. Literally showing how one can be pressed while making a trip to the bathroom. Hang this simple wooden framed sign on the door of your restroom.
19. Wash, Soak, Relax Trendy Sign
You will not just love its simplicity but also the art. This well-thought-out wooden sign suits your bathroom.
20. Wash, Unwind, Get Naked Hanging sign
https://www.instagram.com/p/CKodH4Ul4pR
These wooden signs will look beautiful in your farmhouse. You can put them horizontally or vertically depending on your preference.
21. Hope Everything Comes Out Okay Funny Creative Sign
Life doesn't have to be that serious every day. This funny, somewhat primitive, sign made out of wood will not only make your bad days but it will also add color to your bathroom. If you pay attention to detail, the font and the drawings on the sign make it even more beautiful.
22. Kid's Reminder Sign
Your kids definitely need this to remind them to wash their hands, comb their hair and brush their teeth. Apart from being reminders, your bathroom will look really nice when you hang these on your wall.